We all know that a typist is a person who types letters and documents. A typist uses a typewriter or a computer to conduct his tasks. A typist types variety of documents. A typist is of four types. An audio typist is one who listens to an audio and then types it. The audio is usually recorded by a senior official and provided for typing.
The second type of typist is the transcriptionist. This typist is one who reads a hand-written note or document and then types it. The source which the typist uses is known as the copy and the typist adds the professional touch in that copy. The third type of typist is the copy typist. This typist writes what he has heard and to maintain a record, he types it and prepares a document out of it. The final type of a typist is the shorthand typist. This typist uses shorthand to write what his superior says.
Typists can work in various industries such as companies, businesses, data entry operations, stores, and even some people work as freelancers. The most important skill of a typist is speed and accuracy. Not just typing speed, a typist should have knowledge and art of presenting the documents.
Sample Resume
Summary:
Fast and accurate typist with an experience of 5 years in various industries. Skilled in managing the workload using new typing techniques and improving the speed over time. Previous work experience helped to detect and reduce the chances of errors while typing.
Acquainted with the use of modern-day typing soft wares and techniques such as Microsoft, excel and power point. Ability to not only type and maintain accuracy but to bring the documents in a presentable condition which is easy to understand. Good in following instructions and meeting deadlines as set by the seniors. Use of different formats has helped to attain the interest of the users.
Objectives:
My objectives in this job are/were:
To type documents using copies, audios and even live notes.
To maintain databases and spreadsheets.
To maintain records of the documents and the sources.
To maintain accuracy and avoid any errors.
Work Experience:
ABC Company
My roles in this job were:
To type from rough drafts, notes, and corrected papers into meaningful documents.
To adjust settings for format, page layout, line spacing, and style requirements.
To store and keep safe the documents created and the sources provided.
To print and save a copy of the work for future reference.
To collate and compile the work into one document.
To use devices for accurate data entry and to ensure accuracy of data.
To revise, edit and proofread the documents created.
XYZ Company
My roles in this job were:
To maintain records of documents prepared.
To filed and store completed documents.
To send the documents to the relevant parties and revise them if needed.
To type documents from recorded dictations.
To check for any grammatical errors.
Technical Skills:
Active listening skills
Typing speed
Grammatical accuracy.
Computer and IT skills.
Reference:
To be provided on demand.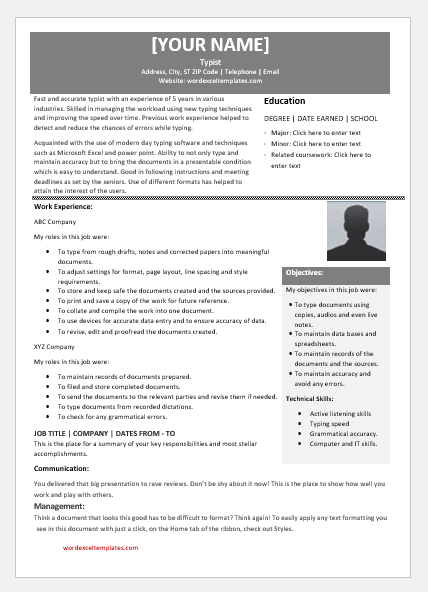 File: Word (.doc) 2007+ and iPad Size 60 Kb |
Download
License: ENERGY (Personal use only)
(Distribution) by Kate Elizabeth(CEO)
---