The world is a book and those who do not travel read only one page. There are many means of transport to travel but most people choose airplane travel because it is a very fast and comfortable means of transport. During travel by plane, we can enjoy music, read books and can watch movies.
Whether you are preparing for an international trip or a domestic one you should pay attention to the travel checklist before traveling. If someone wants that his or her travel plan will go off without a hitch, then he or she should ensure the travel checklist. Make sure that you bring everything you need during travel.
International travel usually requires a passport and a visa for the country you desire to travel to. So first of all, you should check the expiry of your passport, and if it needs to be renewed get it done immediately. It is also very important to check out the travel warnings and advisories for that particular country you plan to travel to.
For an international trip, you should take one or two international credit cards with you that is acceptable in the country you will be visiting. The copy of the passport and other travel documents are also being checked. You should also have the telephone numbers and addresses for that country before you travel there.
If you are traveling overseas for a longer period of time then take your family photographs with you, because this may reduce the homesickness. Before traveling cash should be counted but never count it in the public. Cash should be kept out of sight of other people and handled with care.
Check your airline tickets to know all of your stops and routes. Nowadays, airline ticket booking has become an art. Before booking an airline ticket check the ticket price of the different airlines, and also the flight days and dates you prefer.
Fares are always high on the weekends. If a passenger books his seat 15 to 20 days before traveling, then he can get the advantage of advance booking fares. Because almost all the airlines offer a discount on advance booking. So you should keep in mind that cheap seats are always sold out first.
In short a travel checklist save your time and money also. There are dozens of airline and travel websites to guide the passengers and give them the best price. And one can enjoy their trip to the fullest.
Following is given a checklist that will help you get to prepare for the upcoming traveling event. The checklist will help you prepare yourself from the time you plan to till the time you are onboard. Hope it helps. Have a safe journey always.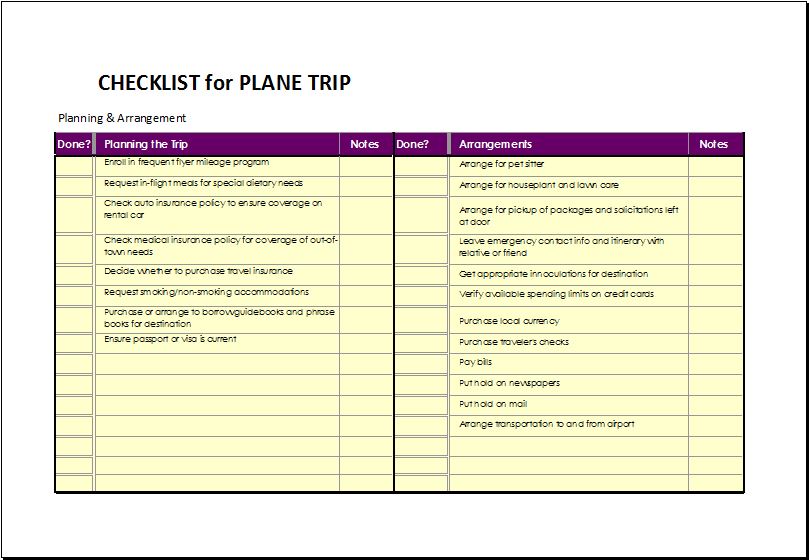 File: Excel (.xls) 2003+ and iPad
Size 47 KB
See also: