What is teacher's to do list?
A good and organized teacher will always want to keep the tasks and work mess free so that he can devote his maximum efforts and time to teach the students. For this purpose, the teacher should know what he is required to do and when is he required to do the respective task. Here comes in this teacher's to do the task. This can be a daily, weekly or monthly.
Significance of this list
This list works as a planner for the teacher and enables the teacher to fully utilize the allocated time to teach the students in the best possible way. The to-do lists help to keep the things straight and to prioritize what needs to get done during the week or month. The daily lists can be proven to be a very helpful tool to critically divide the whole syllabus in bits and make it simpler for the teacher and students to cover everything. The to-do lists can make a teacher organization easier for the preparation time, planning about right books and wise lesson plans. If the teacher knows what to do next, it can help him use the allocated time wisely while prioritizing the tasks and making the best use of limited time.
Template
To do list if made in a standard format can make sure that no aspect is missed out. It should start by mentioning the dates referring to the period it belongs to. In this way, the to-do lists will not be mixed with each other. It can either be drafted in a column form or in headings. This depends upon the ease of the user. The first heading or the column should describe the details about the things to do. This should include the details in the form of points or in descriptive form. Second to that should come to the list or description of things that are on the priority or should be done within a day.  Next, the things to be done within a week and then the things which are not of so much priority. The more this to-do-list is attractive, the more it will be fun to follow.
Preview & Details of Template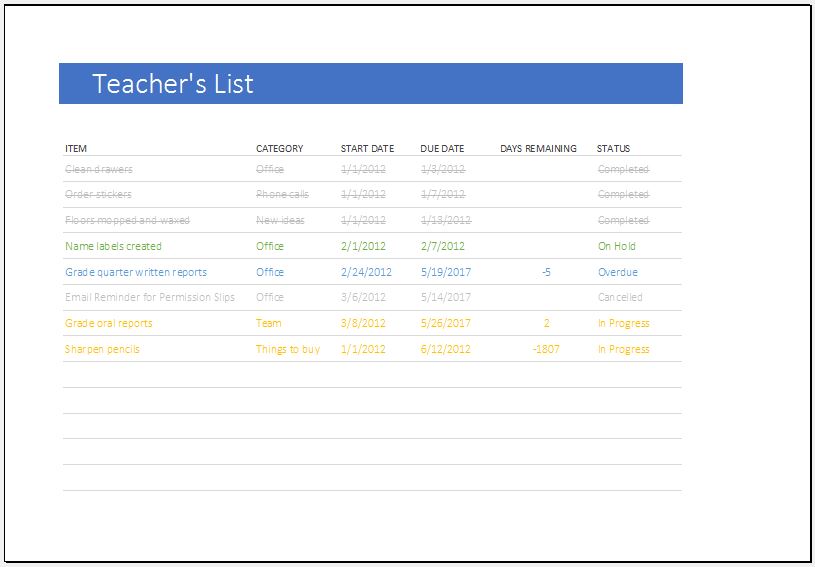 Teacher's To Do List Template
File: Excel (.xls) 2003+ and iPad
Size 43 Kb | Download
License ENERGY [Personal Use Only]
[Not for resale & distribution]