A sports day is an exciting event where different activities occur. This may include cross country, athletics, racing, etc. People involved in these train hard and want to get appreciated. Schools, universities, clubs, etc. may hold a sports day.
What is a Sports Day Event Flyer?
A sports day event flyer is a flyer that advertises the sports day. It is short and precise, telling about when the occasion will be held and other relevant information. It helps people know that a sports day is being held.
What to Include in this Flyer?
If you need to create a sports day event flyer, then you can consider the following points:
Microsoft Word– The sports day event flyer can be made in Microsoft Word so that it is professional and looks good.
Heading– This should be in a big font, and it must be prominent. By looking at the flyer people should know what it is about. The heading can be the "Sports Day Tournament." This can be typed in capitals, as well.
When it is held– This is an important part of the flyer as people need to know clearly when the sports day will be held if they want to attend it. State the location and time clearly without any mistakes. The date even needs to be given. These are all important points and should be communicated properly. One main aim of this flyer is to let people know when and where the event will be held.
Highlights– The highlights of the different activities can be given in point format.
Images– The flyer needs to look attractive so that people are drawn towards it. For a sports day flyer, you can have images related to the sports event. If soccer is the main highlight then a soccer ball will look good. If racing and running will be mostly pursued then having cartoon images of people running will attract. You need to have images that are related to the event. This will help people know what will be involved.
Color– Flyers need to draw the attention of people. They should look wonderful. It is a good idea to use color on the flyers. This will make them look attractive. It depends on what age group the sports day is for. If it is for school children then cartoon images and bright colors work well. If it is for university students then decent colors will be better.
Advantages of a Sports Day Event Flyer:
The advantages of a sports day event flyer are the following:
Allows one to communicate that a sports day is being held
People can know what type of events will be held so they can consider attending it
A sports day event flyer should be made to look attractive drawing the attention of people. This is so that they will want to attend the event. Details of the event should be communicated properly without any errors. You can keep the above points in mind when making this flyer.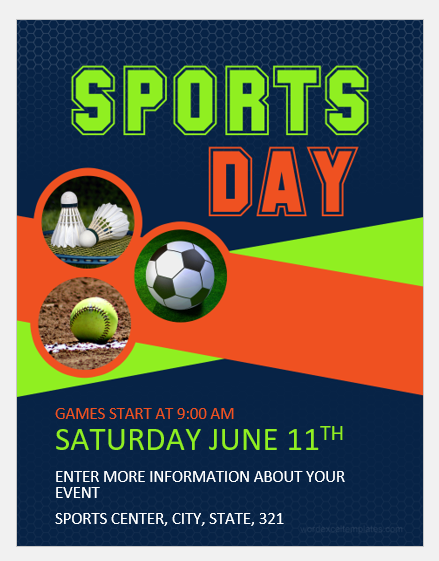 File: Word (.docx) 2007+ and iPad Size 1128 Kb |
Download
---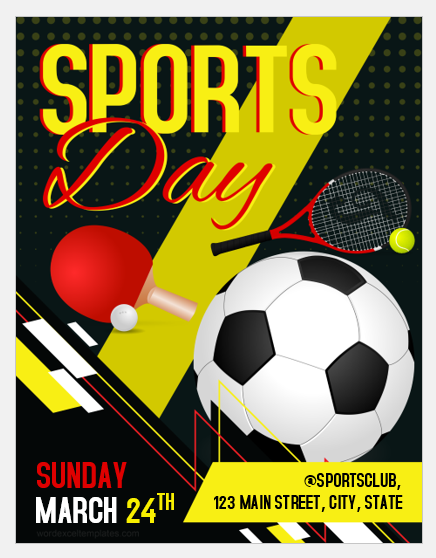 File: Word (.docx) 2007+ and iPad Size 1328 Kb |
Download
---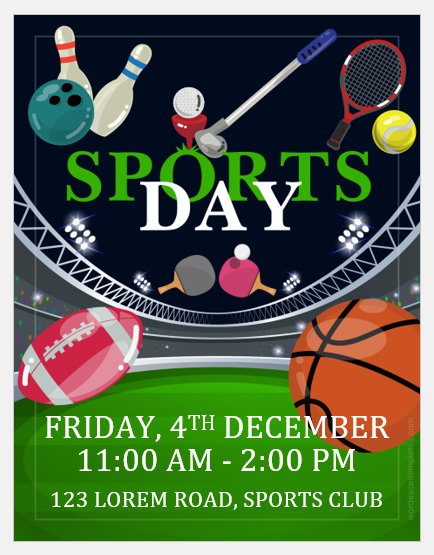 File: Word (.docx) 2007+ and iPad Size 2128 Kb |
Download
License: ENERGY (Personal use only)
(Distribution) by Kate Elizabeth(CEO)
---