Software security specialists are in great demand these days. With new software being introduced every single day, the security concerns have become high. Software security specialists play an important role. These people need a good chunk of technical knowledge. Some fields do not require technical education. But with this industry, technical knowledge and a university degree must be a must. Along with education, the experience is equally important.
Working in the IT and software industry, you always must be on the top. A person should be well acquainted with all the recent changes and advancements. Although, this job does not require a lot of communication, even than communication is a major skill as it will help to coordinate with heads of other departments and the clients as well. Adaptability to change must be an important skill in this field. With this field, it might also require traveling to other cities frequently.
A university degree in software engineering or IT can be very helpful. A small mistake in a code can stop the whole function from working. Attention to details must be the most valuable skill of a software security specialist.
Sample Resume
Summary:
Software security specialist with an experience of ten years in the software industry. Supported the clients with maintenance and troubleshooting of security systems. Worked remotely even in the case of international customers. Was held responsible for installing, testing and maintaining security systems. Developed security systems which can help the company to operate more effectively and securely.
In certain situations, I was even expected to write codes for security programs. Good communication skills always helped to work with other departments such as the IT department. Ability to understand the client requirement and work accordingly. Diverse work experience in different departments and industries like finance, retail, engineering, and public organizations. Modified and integrated existing software with new security systems. Even prepared the manuals of the designed security systems for the users. Trained new hires and existing staff for improved and new software security systems.
Objectives:
My objectives in this job were:
To maintain software systems and manage the system protocols.
To implement, test and upgrade systems across the organization.
To analyze ongoing performance and maintain security systems.
Work Experience:
ABC Company
My roles in this job are/were:
To analyze and establish security requirements for the systems and networks.
To defend systems against unauthorized access and destruction.
To configure and support security tools like firewall and anti-virus software.
To offer expertise in software security and development.
To test software as per design and specifications.
XYZ Company
My roles in this job are/were:
To develop major software tools and systems to support sub-software.
To support configuration managements tasks on projects.
To determine, develop and review approval of the system security.
To adhere to quality control procedures and document them.
To offer planning and support of hardware and operating systems.
Skills:
Customer service skills.
Organizational and time management skills.
Multitasking ability.
Written and verbal communication skills.
Sense of ownership and accountability.
Attention to details.
Reference:
To be provided on demand.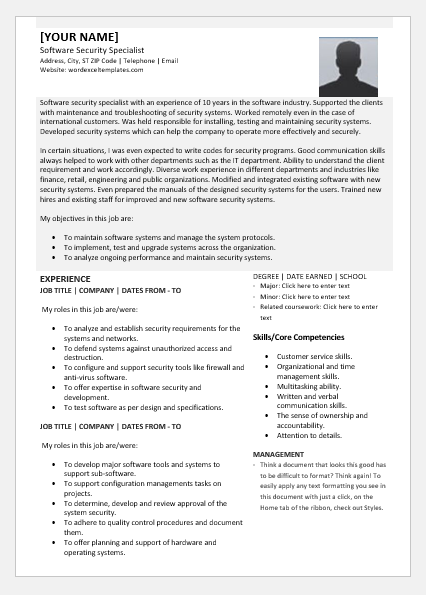 File: Word (.docx) 2007+ and iPad Size 56 Kb |
Download
---