A shot list template is a pre-designed document that contains fields for all the required information in order to organize the shots in a systematic and coherent way. A shot-list brings all the shots in one document to make the access to each shot quick. The given template contains all this information. The camera or photography shot lists are used to keep records in the form of charts or checklists. These are used to track the important and required shots that need to be filmed.
This document is a useful tool in photography or videography as the efficiency in the projects can be increased to a great extent. This efficiency and effectiveness are increased due to the proper organization of all the required information making the decision about and choice of shots easy. A shot list can be written in three main steps:
List down all camera shots
Use setups to group the shots
The setups should be reorganized for maximum efficiency in shooting
Usually, the information contained in a Shot List includes the following:
Order number or order identity
Shot number
Scene number
Framing of the camera
The angle of the shot
Movement
Description of shot
Notes
There are many types of shot list templates that are being used. The variations in the templates are based on the required information that needs to be included. Some of the types are:
Film shot lists
Media shot lists
Template of Photography shot list
Template of Wedding video shot list
There are many benefits of using the shot list templates. Some of those are:
Resourceful way of organizing information
Increases efficiency and effectiveness through improved organization
Saves times
Easy to customize based on requirements
Reduces chances of mistakes
Helps in knowing shooting needs with precision
One of the major benefits of using shot list templates is its usefulness in team projects. The organization and coherence of all the shots in one document help all the team members or all the different teams that are involved in the project to track the performance of the project. Through this document, they can clearly know what is going on in the project and what stage the project is on.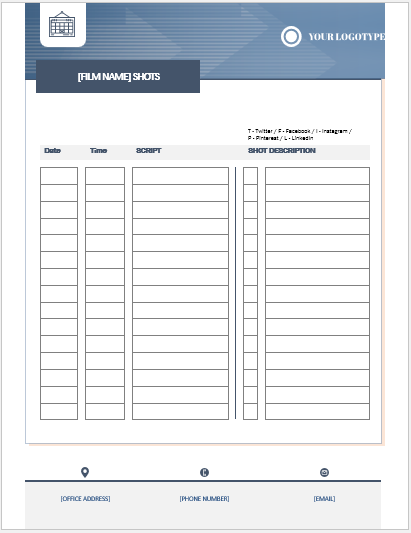 File: Word (.docx) 2007+ and iPad Size 3128 Kb |
Download
---