Accounting is such a field that has much to fit in itself. Where there is involvement of money, there will the need for accounting. Almost in every establishment, accounting has a major role to play. Since an accountant can be the most precious asset of any organization, a strong and well-written resume can show his capabilities.
The resume of an accountant should be able to highlight his skills and capabilities. It is the best way to show how capable you are. The resume of an accountant has a special focus on the qualification, skills, and experience of the accountant. The training attained by the accountant also matters a lot. Mentioning the additional skills such as computer skills can make your resume even stronger. A professional accountant is one who is not only capable of carrying out his daily accounting-based activities but can also communicate with people in well way.
Sample Resume
Summary:
A talented and certified accountant with experience of more than six years in the field of accounting. Experienced in working on ledger processes, reconciliations of accounts and in streamlining accounts. Seeking to increase the accounting experience and to work as a manager in any accounting department where new skills can be adopted and existing skills can be polished.
Core competencies:
Organized and efficient professional accountant with experience in the field of accounting.
Has the ability to analyze everything and to solve problems. Also possesses the ability to take timely decisions
Excellent verbal and written skills of communication
Honest, trustworthy and sincere with the assigned work
Efficient enough to perform multiple tasks at a time.
Great knowledge of using a computer system
Observe everything in accounting for details.
Always intended to reach the targets
Very amiable and courteous towards customers
Work experience:
Accountant:
ABC Corporation from October 2013- Present
Worked with honesty in all the areas of responsibility
Prepared many financial reports while working with whole finance team of my company
I perform analyses of the reports presented to me and also communicate those analyses with the other managers of the company
Also, perform corrections of the accounting record to make sure that all the accounting record is accurate.
Very resourceful and enthusiastic in completing the project.
Keep a good and understanding relationship with my customers.
Perform payable functions of accounts related to construction expenses.
Coordinate with payroll functions of all the employees of the company
Excellent verbal and written communication skills and proficient in English
Account payable clerk:
XYZ Corporation from February 2008-20011
Created budget for company and also forecasted the budget
Prepared accounts for the company and also checked the tax details for auditing
Prepared many financial reports for the company
Recorded all the company expenses and continuously monitored them
Computer skills:
I have complete expertise in Microsoft window, Microsoft office, Microsoft access
Objectives:
My objectives are:
To monitor and maintain the annual reports of my company
To manage the accounts and tax details of the company
To keep the accounting details of the company up to date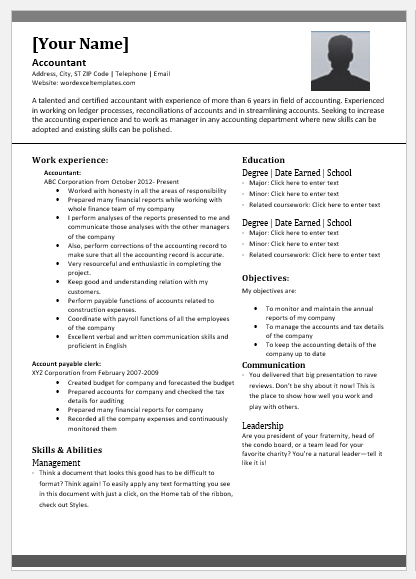 File: Word (.docx) 2007+ and iPad Size 56 Kb |
Download
---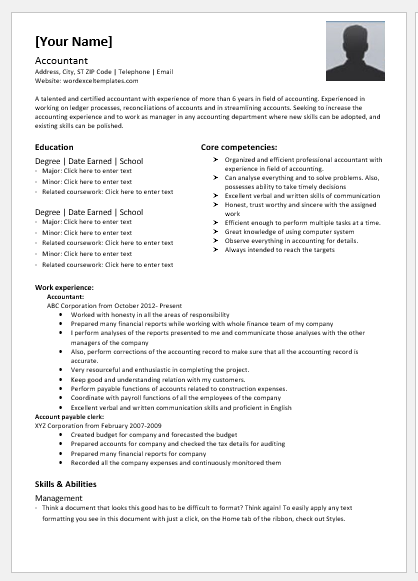 File: Word (.docx) 2007+ and iPad Size 59 Kb |
Download
---