The restaurant inventory template makes it easier for the manager of the restaurant to keep track of the entire inventory available in the restaurant. The template is not just a helping tool, but it is a great way by which you can organize all your data related to the restaurant.
The template available on this website is a multi-purpose tool that can be used as an inventory list, freezer inventory form and as a checklist for the inventory shopping. These templates can provide you with the best document that is being used in the market.
There are multiple fields in the inventory template for inserting the details such as date of arrival, date of manufacturing, date of expiry, counted units, a unit price of each item, etc.
The restaurant's management can easily use the template for the restaurant when it wants to manage the restaurant in an organized way. This template enables the user to edit his details according to his needs.
Advantages
You can enter the details of the inventory in different categories in this template. These categories make it easy for you to organize the data and retrieve it whenever it is needed.
The inventory sheet prepared each month with the help of this template is recorded and kept as a copy. This enables the user to keep track of each month's inventory sheet used in the restaurant.
There are the formulas which are present in this template by default. These formulas automatically calculate the total of all the inventory items by category. These formulas simplify the process of calculation for the user.
The template provides you the accurate calculation results that are very important for a restaurant business to operate smoothly.
It saves a lot of time of the user by providing a ready-made structure and many built-in functions.
You can get this template in MS Word, MS Excel, and PDF format.
Preview and Details of Template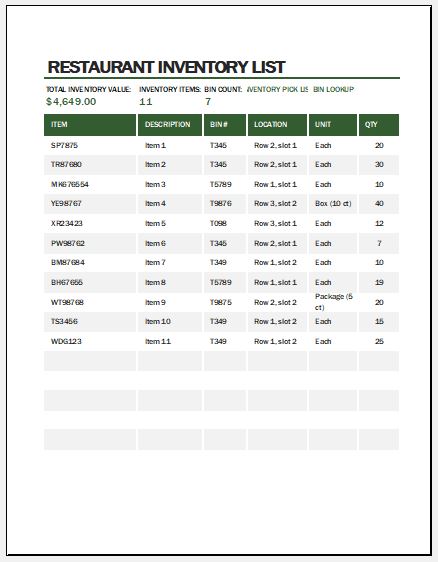 Restaurant Inventory Template
File: Excel (.xls) 2003+ and iPad 
Size 31 Kb | Download
License: ENERGY [Personal Use Only]