Well, we all have been completely aware of the threat of Coronavirus and the way it has been affecting every single hook and corner of the world. Health-based experts are advising people to stay away from physical contact with the rest of the people and do not shake hands with them so much. They have even stated that non-essential gatherings should be avoided completely. In some of the countries, the ceremonies of weddings are completely banned, no one is allowed to arrange any sort of outdoor party and people are even restricted to move out of their houses with no such reason. This sounds so scary!
In some of the countries, educational institutions have been also shut down and hence, therefore, the children are advised to stay back at home with full fledge health security. But what about the people who attend the office centers?
Well, there have been few companies and international organizations like Google that have allowed their employees to work from home. But if your company does not allow you to work from home and they forced you to stay present at the office schedule, then it's time to submit the application request form. Here we have some examples for you which will let you know about how you can write request application form to work at home due to Coronavirus:
Sample No 1:
The highly reasonable application request from the regional director of external relations at a university, who is sharing the office space with eight other people:
Letter
I am so much concerned about how the coronavirus is badly affecting my asthma and my 6 months old son as well. This has made me think so much and now I don't want my environment to get affected by this exposure anymore. So, therefore, I have decided to start working remotely.
I know that the university management has not yet made any sort of decision on it, but I am sure that they will consider it soon keeping in view the circumstance.
Thank you,
Sample No 2:
From a brand director to cofounders of almost 10-person startup within the office in a complete co-working space:
Letter
Hi, guys,
In favor of a small LA team, I want to express the ongoing concerns that have been around all the time coming into the highly trafficked co-working space every day.
Like every single person, I have been tackling the news daily and that too so much obsessively. I am myself personally in so much struggle and stress about the instant and constant spread of COVID-19 and hence I am wondering as if this is the right time for me to implement an optional work from home policy. According to the news updates so many cases are being reported in every single country and every single day.
I do believe that our team has been capable enough to work from home through the mediums of Slack, Zoom, Dropbox and the easiness of the laptops.
It would be best if your management will consider this request application at least for the next few weeks until and unless we won't be getting any guidance from WHO or CDC. It would be appreciated by your side.
Thanks,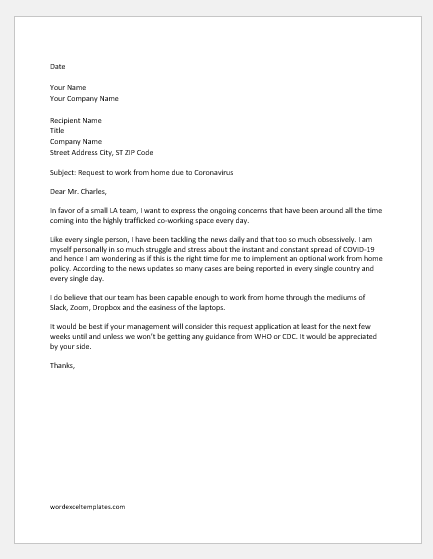 File: Word (.docx) 2007+ and iPad Size 19 Kb |
Download
---
Sample No 3:
From an engineer at a big employer to his manager, and his manager's manager:
Letter
I would feel extra satisfied working remotely for the next few days and reevaluating the public fitness scenario at that time. I will be available by way of email, cell, and Messenger all through normal working hours.
Take care,
Conclusion
So, this is all we have explained with you some of the basic and simple to write samples in case if you are thinking about working from home due to coronavirus. It is extremely important to give your health the best care and precautionary attention to keep yourself away from this dreadful virus.
Stay healthy!
Stay safe!