Have you ever been asked to write a business letter? Well if yes, then this discussion is the right place for you to stick and if don't then you could have been asked to do so, at least one time in your whole career. The recommendation is the process where you recommend any person to a post or something where you can see him as the best fit among all.
The letter could be used in many different ways. When you recommend a person for the job, recommendation for promotion, as a project head and as the owner of the department, this letter is most likely to be used. The way of writing is just the same only the main body of the letter differs.
Keys to write an effective letter:
All in all, the content and the layout of the letter is just the same as you see in other letters but there are few points that will help the pattern of your business writing.
Try to avoid writing the lengthy letter. Weigh your words before you write them because the lengthy letters are generally ignored by the people.
Try to avoid jargon because it makes your letter difficult for others to understand.
Avoid clichés and don't repeat any quality of the person.
The matter should be equally divided into sentence and paragraphs. Don't make anything appear jumpy. Don't try to be judgmental because this leaves a broken impact.
Read your letter again and check the grammatical issues. Consider yourself talking face to face with the reader and this will help you with not using the vague language and any collateral expressions.
Where to get this letter?
There are recommendation letter templates available on the internet that you can use to get some idea or you can simply use the letters as it is when you lack time. You can download the letter straight from this website and by making few changes you will be available to get a good response. The templates are free to download and easily available. If you are a beginner then you can take hints from the sample letters.
Preview and Details of Templates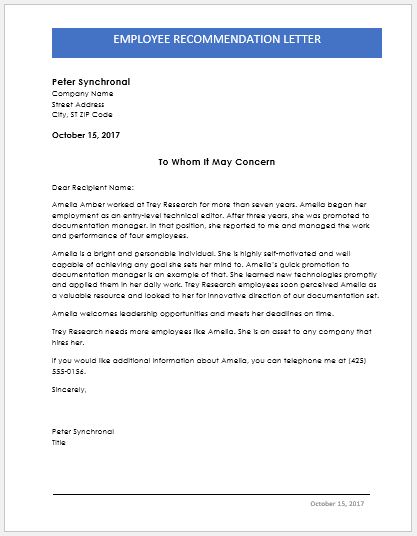 Employee Recommendation Letter
File: Word (.doc) 2003+ and iPad
Size 44 Kb | Download
File: OpenOffice (.odt) Writer [writer]
Size 12 Kb | Download
---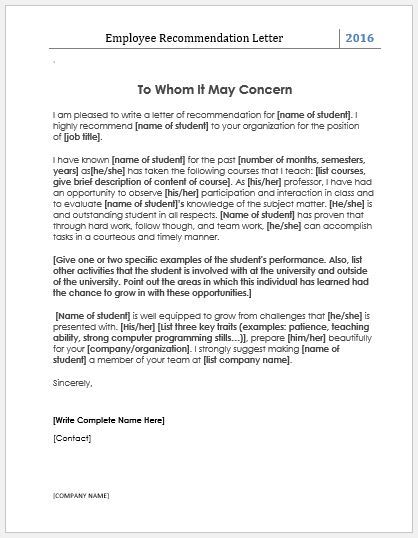 Employee Recommendation Letter
File: Word (.doc) 2003+ and iPad
Size 42 Kb | Download
File: OpenOffice (.odt) Writer [writer]
Size 13 Kb |  Download
---
Company Letter of Recommendation
File: Word (.doc) 2003+ and iPad
Size 37 Kb | Download
File: OpenOffice (.odt) Writer [writer]
Size 13 Kb |  Download
---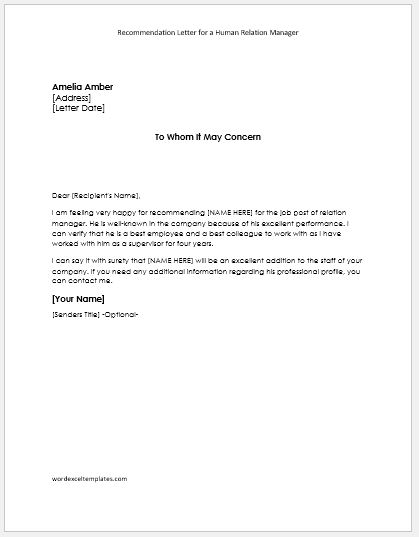 Recommendation Letter for Human Relation Manager
File: Word (.doc) 2003+ and iPad
Size 30 Kb | Download
File: OpenOffice (.odt) Writer [writer]
Size 12 Kb |  Download
---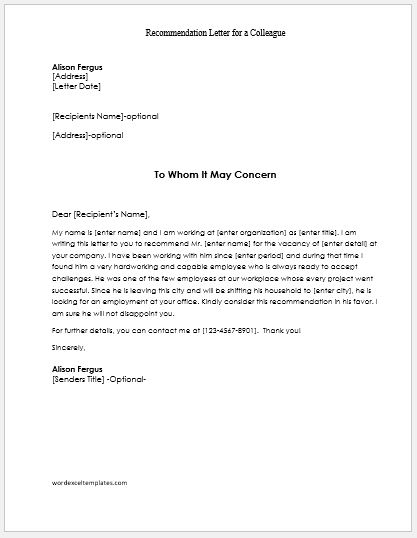 Recommendation Letter for a Colleague
File: Word (.doc) 2003+ and iPad
Size 32 Kb | Download
File: OpenOffice (.odt) Writer [writer]
Size 14 Kb |  Download
---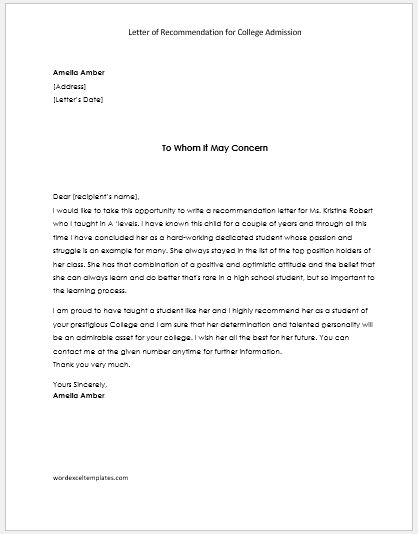 Letter of Recommendation for College Admission
File: Word (.doc) 2003+ and iPad
Size 41 Kb | Download
File: OpenOffice (.odt) Writer [writer]
Size 23 Kb |  Download
---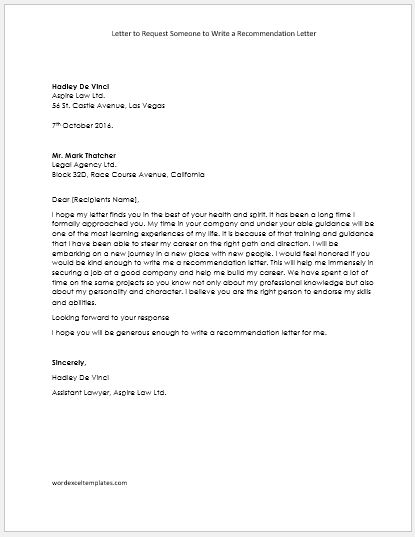 Letter to Request Someone to Write a Recommendation Letter
File: Word (.doc) 2003+ and iPad
Size 48 Kb | Download
File: OpenOffice (.odt) Writer [writer]
Size 12 Kb |  Download