Coworkers are the people who work with you. You tend to develop a harmony and bonding with them. But Humans always want something big and better for them so if they are offered a better job, they'll take it. Employers demand a recommendation letter from the coworkers or the previous employer to have an idea about the new employee.
What is a coworker recommendation letter and why do we need it?
A recommendation letter from a coworker is a type of letter in which the person who has previously worked with the employee enlists his experience, the employee's expertise and abilities and all the good features about him. The recommendation letter is all praise and nothing less.
We need a recommendation letter to impress the employer from the very first day. The employer needs this letter to judge us a little bit before hiring. The letter is a sort of gateway for getting the job. The employer considers the reviews given in the article such as your ability to work as a leader, how you work in the team, how you handle the management and operational issues, very essential and important.
Therefore the letter should be all praise about you. Anything less than that won't work at all. The person who is writing it should agree to write it all positive.
How to write a coworker recommendation letter?
The letter should start with the person to whom you are writing the letter. You might use the general salutations such as "To whom it may concern".
Next step involves taking the full overview of the type of job. Before writing the letter talk to your coworker about the type and description of the job.
Get a copy of his resume so that you can have an overview of his skills while writing the letter.
Highlight his achievements and experiences in the letter. Take into account the work he has done for the organization.
Make sure the data you enter is correct and validated. Try to avoid the grammatical mistakes while writing the letter.
A sample designed by our professionals is given below for your assistance.
Preview and Details of Template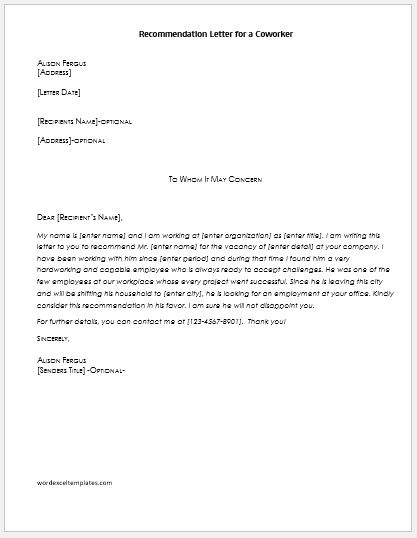 Recommendation Letter for a Coworker Template
File: Word (.doc) 2003+ and iPad
Size 29 Kb | Download
File: OpenOffice (.odt) Writer [writer]
Size 17 Kb | Download
License: ENERGY (Personal Use Only)
Distribution by Kate Elizabeth(CEO)