A recommendation letter from a coworker is a type of letter in which the person who has previously worked with the employee enlists his experience, the person's expertise and abilities, and all the good features about him. A recommendation letter is all praise and nothing less.
The letter should highlight and focus on positive things. Anything less than that won't work at all. The person who is writing it should agree to write it all positively.
How to write a coworker recommendation letter?
The letter should start with the person to whom you are writing the letter. You might use general salutations such as "To whom it may concern".
The next step involves taking a full overview of the type of job. Before writing the letter talk to your coworker about the type and description of the job.
Get a copy of his resume so that you can have an overview of his skills.
Highlight his achievements and experiences in the letter. Take into account the work he has done for the organization.
Make sure the data you enter is correct and validated. Try to avoid grammatical mistakes.
A sample designed by our professionals is given below for your assistance.
Preview and Details of Template
#1
Re. Recommendation Letter; Referring Mr. [Name] for the Position of [mention the designation]
Dear Mr. [name],
I am [name], currently working as a [mention your designation] at the [name of the company]. I have been working in this organization since 20xx. I have experienced three years in the management team and two years in project management.
I have known [name] since he joined the organization. He entered the organization as a [mention his designation] in 20xx. He was promoted to the [name the Position] rank in 20xx. He has been living in the [mention his address precisely].
I know him personally as we have worked together in this organization for X years. He proved to be a great coworker: a cordial colleague and a very cooperative fellow. I have known him since he joined the organization and saw his work first-hand. He worked in the same department as I did. Most of our work aligned together and was collaborative.
His nature is amiable and cooperative. He showed sheer diligence and resilience in times of crisis and worked under high pressure. He was able to handle assignments and meet deadlines on short notice. I saw him grooming and turning into a great research fellow. His ideas and methods of conducting research, collecting and organizing data, and structuring them into full-length proposals or technical reports are creditable.
I refer him to your company as a senior research fellow. He aspires to be an excellent research and project manager in the future. I believe that he will prove to be an asset to your organization.
Please, do not hesitate to ask if any queries. You can contact me at [phone number] during office hours: 10 AM to 4 PM. Thank you for reviewing this recommendation.
Regards
[Your name]
[Designation]
[Name of the organization]
[Signature]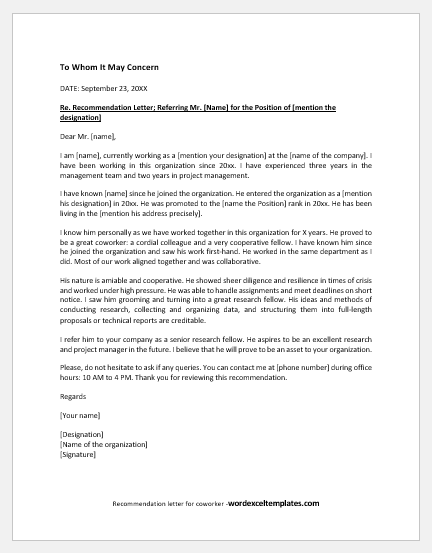 #2
Re. Recommendation Letter
Dear Manager,
I am [full name], the [designation in the company], from the [respective department], [name of the organization]. I am writing this letter to recommend Ms. [name] to study in your institute at [specify the campus branch], [city], [country].
I have known Ms. [name] since 20XX when she joined my office. She joined the office as an [designation] in 20xx. She worked under my direct supervision and always showed sheer eagerness at work. She is passionate and a fine blend of researcher and manager. Her management skills and good communication make her the best fit for the organization.
Recently, she got approval to study abroad in the [name of the country]. She has a great interest in Business Management Strategies and Theoretical Analysis. She has a Master's in Business Administration from [mention the institute]. To excel in this field, she aspires to study more at any well-renown university. I am of the firm belief that she will prove herself to be a hardworking and diligent student.
She is excited to study in an environment conducive and diverse, without discrimination. Such an environment is ideal for your campus. I recommend her for admission to the field and study mentioned above. Please consider my recommendation and let me know if you have further questions.
You can call me at [phone number] on working days or send me an email at [email address]. Thank you.
Regards
[Name]
[Designation]
[Company]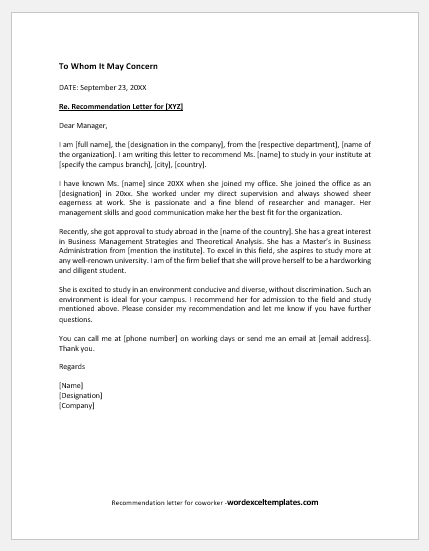 #3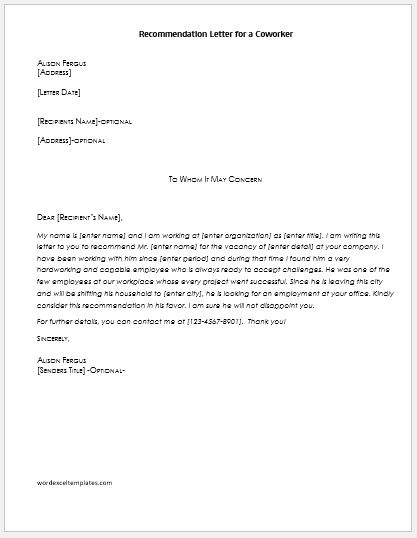 File: Word (.doc) 2003+ and iPad
Size 29 KB
More sample letters…