Literacy has been one of the things that have been focused and stressed over by a lot of countries. An increase in literacy is an indirect way to help grow the economy. Everyone we meet can read and write but can we imagine that half of the population in the world cannot read or write. According to a survey conducted by Huffington post, 80% people in America do not buy books. And one more striking fact is out of the illiterate population around the globe, 66% are women. These literacy facts are not just the reality but they are disturbing as well.
People have different hobbies and reading is one of the best hobby people can have. Why is reading a good hobby? You can do it anywhere you want. All you want is a book with you. During a stay in London for two years, one thing I observed was that people of all ages would carry a book with them always and whenever they would find time, they will read. Books are so portable that you can fit them anywhere.
Carrying phones or tablets might sound more fun but they need charging and can have technological glitches. But a book needs nothing more than attention. Every resource in this world has some constraints. The petrol or the natural gas will run out someday, but books will never run out. Even if someone is an avid reader, even then no one can read all the books available in this world.
Humans are good at making stories and not just that, we all have our own personal experiences which we can write in the form of a book. Our experiences might not be valuable for us, but they might help other people. Reading makes you look smarter and even you sound smart. Reading makes you travel around the world and gives you more knowledge. Johan said that a reader lives a thousand lives whereas, a man who never reads lives only one life.
A lot of people enjoy shopping. Some people enjoy shopping clothes but some people enjoy buying books. We all know the benefits of making a shopping list. In the same, it is a good way to create your own reading list. Reading can be a hobby, but a reading log can be more useful for students who need it for their academic purpose. The name/title of the book and the name of the author should be mentioned with the time taken to read that book. Mention the subject of the book and include some comments about the book.
Preview & Details of Templates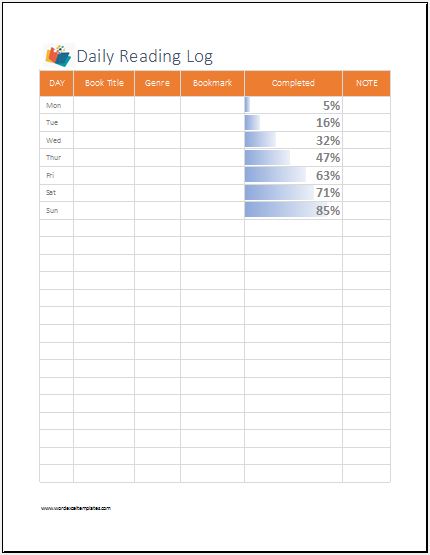 Daily Reading Log Template
File: Excel (.xls) 2003+ and iPad
Size 44 Kb | Download
File: OpenOffice (.ods) Calc [Calc]
Size 12 Kb |  Download
License ENERGY [Personal Use Only]
[Not for resale & distribution]
---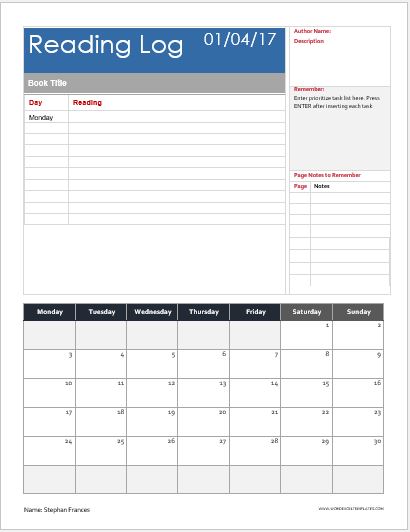 Weekly Reading Log Template
File: Excel (.xls) 2003+ and iPad
Size 44 Kb | Download
File: OpenOffice (.ods) Calc [Calc]
Size 12 Kb |  Download
License ENERGY [Personal Use Only]
[Not for resale & distribution]
---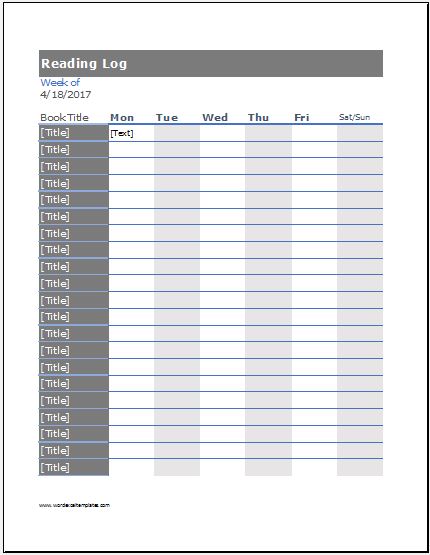 Monthly Reading Log Template
File: Excel (.xls) 2003+ and iPad
Size 44 Kb | Download
File: OpenOffice (.ods) Calc [Calc]
Size 12 Kb |  Download
License ENERGY [Personal Use Only]
[Not for resale & distribution]