Quarterly calendars template is a very handy tool that provides the complete convenience to the user in preparing professional looking calendars for their business. The quarterly calendars are used in most of the businesses to manage the appointments and for carrying out the routine activities based on planning.
Other calendars such as a calendar for employees which is designed to schedule to the shifts of the employees working in an organization are also made with the help of this quarterly calendar. They are perfect for organizing events, scheduling meetings and appointments and lots of other things.
This template provides you with a lot of flexibility in managing the quarter periods of your business. Scheduling and managing can be a hard task yet essential for almost every type of business. Those businesses that have complete planning of the work they must perform in a specific amount of time are more successful.
The template for the quarterly calendar is available in the format of the document as well as a spreadsheet. You can choose any of the templates depending on your needs. You can save that template to your PC for later use and can directly print your calendar.
The calendar has been designed in such a layout that is most suitable for almost every type of business. The user should check the layout and the orientation of the calendar before he prints it. The orientation can be changed through the customization feature of the template.
The quarterly calendar template contains many blank fields in the form of grids where you can add your details. There are also some other templates without any date and holiday mentioned in them.
It's your duty to find a template that can work for you more appropriately. If you are not satisfied by any readymade template, you can also get a blank template that will allow you to prepare a calendar for you from scratch. The blank template also used the collaborative features of spreadsheet and much complex functionality to enhance the usability of the template.
Preview and Details of Template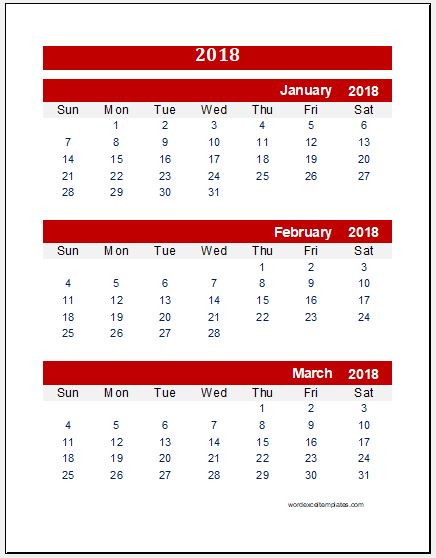 Quarterly Calendar for Any Year
File: Excel (.xls) 2003+ and iPad 
Size 45 Kb | Download
License: ENERGY [Personal Use Only]