A resume for the quantitative surveyor is a document which is the best platform to portray the skills and achievements by keeping a specific perspective in mind. A resume is very important to prepare before you apply for the job since its purpose is to support the job application. You can always have a chance to avail the best available opportunities if you have a well-written resume.
A quantitative surveyor is an economist who has a job to study the project initiated by the company so that a rough estimate of the cost of the project can be made. It is the main job of the quantity surveyor to give a specific direction to all the activities that are executed to meet the construction costs of the project that have been estimated.
Here is a sample resume of quantity surveyor that has expressed the skills and achievements of the applicant in the best possible way so that it can grab the attention of the recruiter and can be helpful for you if you want to get the desired job.
Sample Resume
Summary:
Extensive experience of more than 5 years in the field of survey. A result-oriented individual that can be useful and productive for the firm. A goal-oriented professional who can work significantly to reduce the costs of the project and improve the efficiency of the firm.
Objectives:
My objectives are:
To work as a quantity surveyor in a leading company
To overcome all those challenges and difficulties that my job provide me
To be a productive professional for the firm who can participate in the growth of the company
Work experience:
I have worked as a Quantitative Surveyor in XYZ corporation from February 2011 to April 2019
My key roles in this job are/were
Maintaining the quantity records
Reviewing the scope of the project initiated by the company and to consider all those factors that can influence the cost of the project.
Preparing the estimate packages for the project to get them reviewed by the head of the company, head of the department, project manager and the clients.
Calculating the cost for labor, time and for other material which is required to complete the project.
Managing the maintenance of the cost data, entering the data in the database and updating it.
Technical skills:
Adept at using operating systems such as window 2007 and 2008
Can use the ERP system for the project.
Core competencies:
Able to work in a different type of environments and adjust himself to the changing environment
Highly organized and stays attentive to each detail related to the survey
Best interpersonal skills and uses some innovative and skills methods to resolve the conflicts faced by the firm
Excellent skills to work in the fast-paced environment
Extensive knowledge about the job and able to work in the field with remarkable skills
Reference:
Reference will be furnished at the time of interview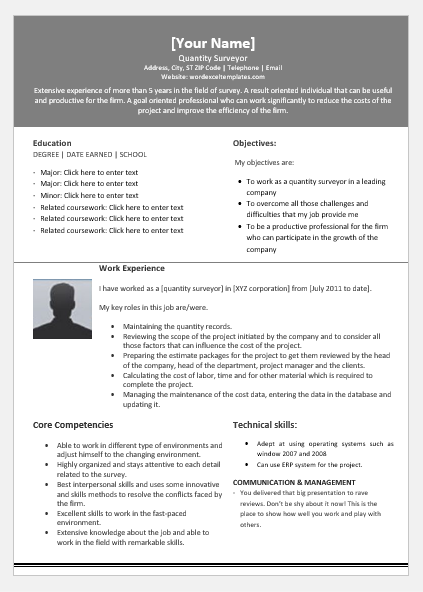 File: Word (.docx) 2007+ and iPad Size 71 Kb |
Download
---