Sending someone a heart is a way to express love. Whether you want to send a card of a heart shape, or you have to post a heart-shaped sticker somewhere, the printable heart shape templates are best to use.
Printable heart shapes:
Here on this website, we are providing a number of heart-shaped templates in different sized. These templates are customizable which means you can change the size and the color of the heart as you like. You can also add a font inside the heart.
The template provides a variety of styles that give you a very clear idea when it comes to sending hearts to your loved ones. You can have many hearts for Valentine's Day if you are organizing a party themed something romantic, you may be in the need to have many hearts to be used in decoration.
The template provides many printable heart shapes in various stylish designs. No matter for which project you want to use these heart shapes, the template always helps the user use these shapes.
How to use the template?
These templates provide the complete ease with which the user can use them. The user can use these templates online by simply customizing them and sending them to others via email.
Another way to use these templates is to print them on a piece of paper, cut it into a heart shape and then decorate it with different embellishments. Moreover, you can also print these templates directly on the cardboard and then use different decorative materials for the purpose of decoration.
Another effective way to make use of the heart shape templates is to use them to make the heart shape of polymer clay or plastic. Furthermore, the hearts on fabric can also be made to design various stuffed textile hearts.
Features of the template:
The template enables the user to add stitched borders on the heart.
Whether you want to increase the length of the heart or width, you can always do that with the use of the template.
You can also add an extra touch to the hearts by changing their colors, adding a font in the heart, and a lot more
For a project themed on romance, add the conversation in the heart. These conversation hearts are best to be used on Valentine's day, engagement day, anniversary, and many such events
You can also download the blank heart templates in which the text of your own choice can be added. Use different colors to outline the hearts in order to make them look more appealing
Sending beautifully designed and personalized hearts to your loved ones is the best way to show your love for them. It really makes them feel special. These templates are best to be used for craft projects in schools, decoration purposes, and also for coloring pages. No matter which time of year you need them, they are always very useful.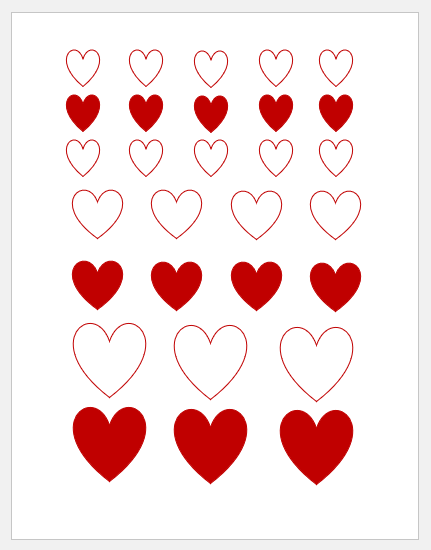 File: Word (.doxc) 2007+ and iPad Size 45 Kb |
Download
---