When we think about plants we can think about greens, oxygen, nature and fresh fruits and flowers. Plantation gives us a very pure and fresh feeling. Everyone likes plants and even if we do not like them, we know that they are very important in our life. Plants are a source of food for humans and animals equally. And with increasing diseases, we all have started to understand the need for plants in our life.
We have so many aspects of our surroundings which make our life a lot easier but we simply ignore. If plants are important so is important the person who looks after them. Here, we are not only talking about the gardeners, but also the nursery workers who grow and maintain plants so that we can buy them.
General duties of a plant nursery worker include
Plantation of new seeds
Taking care of the growth of the plants
Regular watering of the plants.
Taking care of all the plants growing indoor or outdoor.
Work to explore new varieties of plants that can grow faster
Make a schedule to regularly view the plant's growth
As the plants start to grow, they mow, weed and water them. They will also wrap and pack them if they must be transported somewhere else.
Sample Resume
Summary:
Nursery worker with diverse working experience in different sectors such as farms and industrial produce. Worked indoors as well as outdoors. Responsible for planting, growing, taking care and scheduling of the plants.
Good knowledge of pesticides and professional in handling, using and storing them. Analyzed the needs for growing and developing the plantation. Experience in use of computer systems that help in maintaining and growing the plant. Updated knowledge of new gardening techniques. Trained the new hires for efficient and effective gardening techniques. Communication skills helped to understand the needs of the customers and to educate them about the benefits of gardening.
Objectives:
My objectives in this role are/were:
To plant, grow, water and prune the plants.
To generally care for plants and trees.
To main the quality of the greenery and determine environmental conditions for the growth and development of the plantation.
Work Experience:
ABC Company
My roles in this job are/were:
To determine the varieties and quantities of trees and shrubs.
To follow planting and care schedules.
To prepare green beds and plant the seedlings.
To ty and wrap the trees for better growth.
To dig shrubs and trees and move them for planting in a different field.
To follow the pest control plan.
To identify and control pest, insects, and birds.
To safely handle the pesticides and dispose of them safely.
To be knowledgeable about organic farming.
To supervise the staff in planting and seedlings of all types.
To operate the computer systems which control irrigation.
To effectively communicate with the customers to guide them about gardening.
Skills:
Knowledge of organic farming.
Use of computer systems for irrigation.
Use and handling of pesticides.
Prepare and implement planting schedules.
Communication skills.
Record keeping and preparing budgets.
Reference:
To be provided on demand.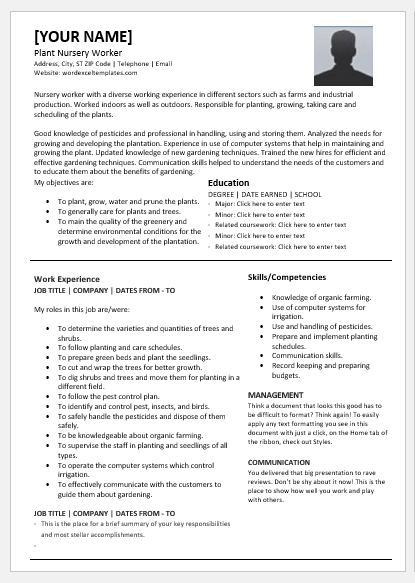 File: Word (.docx) 2007+ and iPad Size 68 Kb |
Download
---