Photography is an art and the ones who do it have the right to be respected and paid for it according to the standard of the work they have done. Human nature has a tendency to be attracted to something that is visually attractive. Some photographs are too much pretty to be kept in your closets and they needed to be published.
Photograph release forms are the legal documents containing the permission from the photographer. These documents allow the companies and firms to include the photographs in their ads or any commercial purposes. Any photograph taken without the consent and permission of the photograph might lead to copyright issues and legal disputes.
When do you need a photography release form?
A photograph release form signed from the photographer is required if you want to use the photograph for a publication or any commercial use. There is no need of a photograph release form when any picture of any person in the public is taken. But if you are going to use the photograph in the newspaper, magazines, or TV commercials, permission from that person is necessary.
It is essential to respect and protect the privacy rights of every individual. Any violation of these rights might lead to legal disputes.
Components of the Photographer release form:
In the release form, the photographer or the subject grants access and permission to use his photographs for commercial purposes.
The financial compensation is given to the subject if the photograph is used for the promotion of any product. But if it is just for use in the newspapers or magazines, usually no money is given to the subject. As a reminder, these points are stated in the legal form that the subject signs.
It is important to consider the age of the person who is signing the document. The adult or group photos are signed by the whole group. While in the case of minors or teenagers, the legal document is signed by the parents.
Our professionals have presented here a template of this form. You can download and use it easily.
Preview and Details of Template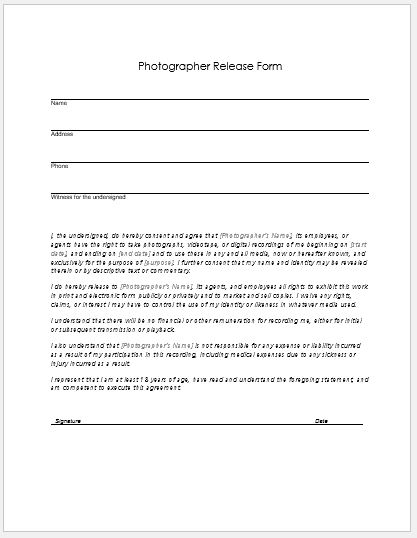 Photographer Release Form Template
File: Word (.doc) 2003+ and iPad
Size 31 Kb | Download
File: OpenOffice (.odt) Writer [writer]
Size 18 Kb | Download