Pesticides application is a very practical way to get rid of pests and insects from a farm. Pesticides are best to use against all the herbicides, fungicides, insecticides, nematodes and other agents which eat on the crops. The use of pesticides for the crops and other commodities is very useful. With the advancement in technology and new ways to increase the growth of the crops, people have become more concerned about the use of the pesticides because it has become very important to make the pesticides application as efficient as possible.
This type of record sheet is used by people who want to keep a record of the pesticides being used on their farms. It is the law of many states that restrict the applicators to keep a record on an application. On a farm, where the people are employed for the application of pesticides, the use of pesticides should be recorded. The records sheets are also used by many people are concerned about the pests. The sheet has no specific format. Every person or organization uses the pesticides application according to his/her own needs and requirements.
The recording sheet includes the address of the farm where the pesticide application is being done and the name of the owner of the farm or the name of the establishment is included and is written on the top of the pesticides application form. The recording sheet is used to record the date on which the application of the pesticides was done. Other major components of the pesticides application record sheet are:
The starting time of the application of pesticides on the crops and trees
The site or location where the pesticide is applied
The brand name and the formation of the pesticide
Active ingredients of the pesticides
The name of the crop or commodity which has been treated with the application of pesticides
Application rate
Size of the area which has been treated with the pesticide
Quantity of those pesticides which have been used in undiluted form
The time in which the application was completed
The name of the applicator and the certification number
After including the above mentioned detailed on the recording sheet, one can keep the record of the pesticides application efficiently. Keeping the record is very beneficial in a number of ways.
Record can be kept to keep track of the areas in the form which have been treated with the pesticides and the areas which are still untreated
Keeping the record of the pesticides brands name which was used on crops also enables the people to check the effect of those pesticides on crops. They can also decide on the basis of those effects whether or not to continue the use of those pesticides.
There is a specific tie period after which every farm is required to be applied by the pesticides again. Keeping the recording sheet enables the farm owner or the establishment to remember when to apply the pesticides again.
Preview & Details of Template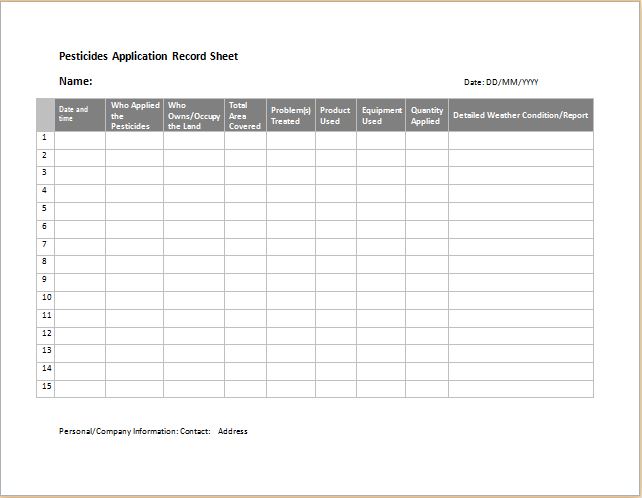 File: Word (.doc) 2007+ and iPad
Size 42 Kb   |  Download
File: OpenOffice (.odt) Writer [writer]
Size 18 Kb     | Download
License: ENERGY   (Personal Use Only)
(Not for resale and distribution) by Kate Elizabeth(CEO)