Some letters are not just requesting letters, they are more than that; persuasive letters. These letters are written to persuade the recipient on your point so that he may consider your letter and help you in the mentioned matter.
Writing a persuasive letter is a very tricky task. Unlike many other letters, in persuasive letters, approval of the letter depends on how powerfully you write your letter. They are used in many different spheres, but all persuasive letters have some common elements. Let's learn how to write a convincing persuasive letter.
Before writing your letter makes sure why are you writing it?
If required do some research about the arguments and facts that you're adding in your letter.
Make a rough draft of your letter
When you start writing, don't forget to use business letter format
Make sure you don't make any grammatical or spelling errors. They give a bad impression. In case you have terrible grammar or spelling, try using some online grammar tools.
Never be harsh, over-emotional while writing a persuasive letter. Use logic instead.
Remain concise and precise in your letter. Busy people don't have time to read lengthy letters, they simply ignore them. In this case, all your tears and emotions will only go in the nearby bin.
Assume some questions that might appear in the reader's mind or the counter-arguments of your arguments and try to answer them in the letter but be precise.
Close the letter with proper salutations. Take a review of the letter and sign it. Don't forget to keep a copy of the letter with you.
Since these were some general tips, you should still look at our persuasive letter sample to learn more about the tone, style, salutation, and methodology of writing persuasive letters. Here you go!
Preview and Details of Template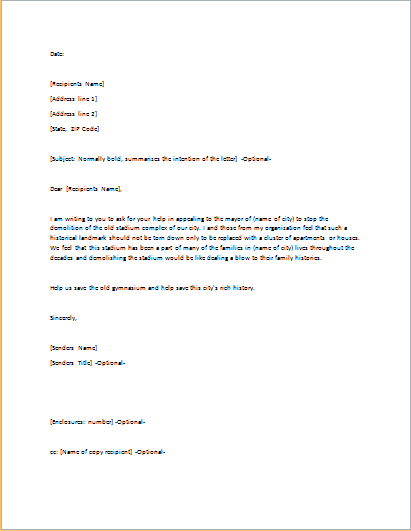 File: Word (.docx) 2007+ and iPad
Size 24 Kb |
Download
---