Maintaining one's personal health requires regular medical check-ups. With age, the importance of these regular examinations increases since the immunity begins to diminish. As a result, vulnerability to diseases is enhanced. On the other hand, age-related ailments also begin to strike.
Young individuals must also maintain a regular check on their personal health. It is important for diagnosing serious conditions at an early stage. In addition, a predisposition to certain diseases may also be discovered. Measures can then be taken accordingly.
The results of these examinations are recorded by the doctor. If you have been seeing various doctors at different hospitals, your records must be scattered at different locations. It is very important to maintain your own personal medical health record with you. This yields numerous advantages.
Most importantly, it makes you aware of your own health condition. Any required changes in lifestyle can be adapted accordingly for the sake of your health.
Allergies and other medical conditions can also be avoided due to this awareness. This record can also be used in case you change doctors.
Alternatively, if you have been referred to a specialist, your personal medical health record will turn out to be very useful. All your medical history will be available to your new doctor.
It is difficult to remember all the medical procedures you have gone through during your life. Likewise, keeping a track of your prescribed medication is also impossible without a proper record.
You may have taken a number of diagnostic tests. Your health record sheet can be used to compile all the tests and their reports. This prevents duplication of tests which saves money and time.
In short, a personal medical health record is used for collecting the entire information about your medical history and current health condition. This creates an organized system for future check-ups and medical procedures with enhanced efficiency.
A template can be downloaded to create your personal medical health record sheet. It can help you organize your information properly. Various sections of the template can be customized to suit personal requirements. This enables the maintenance of a personalized health record.
Preview and Details of Template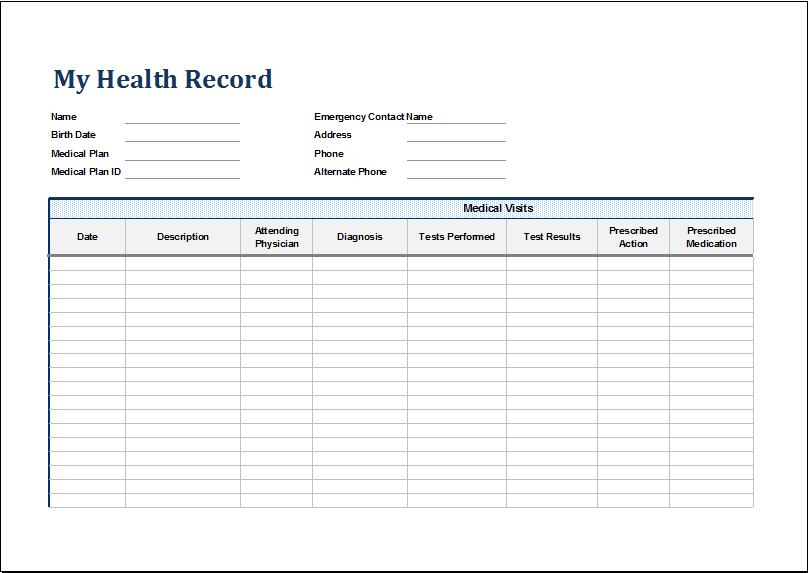 File: Excel (.xls) 2007+ and iPad
Size 36 Kb   |  Download
File: OpenOffice (.ods) Spreadsheet [Calc]
Size 16 Kb   |  Download
License: ENERGY   (Personal Use Only)
(Not for resale and distribution) by Kate Elizabeth(CEO)