What is the Payment Receipt?
The payment receipt is a document that contains all the rudimentary information regarding the purchase made by the customer. The payment receipt is necessary to be kept. Companies and organizations use it for the purpose of the audit trail. It also plays a key role in the verification of payments.
Companies lacking payment receipts are considered to be less trustworthy than those who provide this facility. For the valuable repute of the company, it is necessary to keep the facility of payment receipt as it prevents many upcoming problems regarding the purchase and can be used as proof too.
What information do payment receipts provide?
The payment receipt is a significant document as it covers many areas providing the necessary details regarding payment such as mode of payment. The customer may give the payment in the form of cash or credit card. So, whatever the mode is used for making the purchase can be recognized easily by viewing the cash payment receipts.
The date and time are mentioned too. Mentioning the date and time really matters a lot as the company can get an idea about how many purchases have been made in a day and at what specific time the product is purchased by the customer.
In addition to this, both payer's detail and receiver detail are mentioned. The identity of the company which is the company name, company logo, fax, contact number, and address can be mentioned on the receipt. It contains the specific serial number which helps in tracking the purchase. It also assists in tracking how many purchases are made in a particular duration.
About Templates
A payment receipt is such a document that needs to be professionally designed so that the company makes its roots strong in the competitive environment and impresses the customers too. Our highly skilled experts designed it quite professionally having all the mandatory details. You can easily keep your hand on this document by downloading it. Enjoy using it and make your valuable customers satisfy.
Preview and Details of Template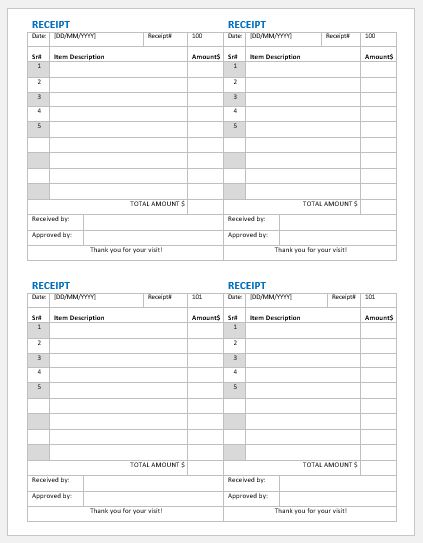 File: Word (.doc) & iPad 
Size 37 KB
See also: