Survey Forms
Any hospital that wants to stay in competition with others is required to provide high-quality services to its patients. It is essential for a hospital management to know about the reviews of the patients so that it can bring improvement in its performance and services.
The main purpose of conducting the survey is to get the point of view of every patient because, without the survey, it is not possible for the management of the hospital to reach every patient.
The easiest way to conduct the survey is to get the patient satisfaction form and distribute it to the patients who have got treatment from that hospital.
The patient satisfaction survey form includes series of questions related to the services of the hospital. The patient in the hospital is asked to answer the questionnaires of the form before leaving the hospital.
Most of the hospitals find this survey form to be the most accurate and authentic way to connect with their patients.
The form is a useful tool to keep track of the performance of medical professionals. It is the duty of every medical practitioner to provide timely and best services to the patient.
Just when you get to know how the patient feels about the appropriate medical professionals, you can easily take some steps to bring improvement in the performance of the doctors and other staff.
With the help of patient satisfaction survey form, you can easily take some safety issue for the sound health of the patient and high-quality standard of requirements can also be met.
Patient satisfaction survey form template:
The template for patient satisfaction survey form is easy to access and download. With the help of this template, the user can measure the success level of the hospital, and the record of the feedback provided by the patients through the form is also maintained.
It is a useful tool for the management of the hospital when it comes to collect the information of the patient and other details. In other words; it can make a positive image of the hospital in the market.
Preview and Details of Template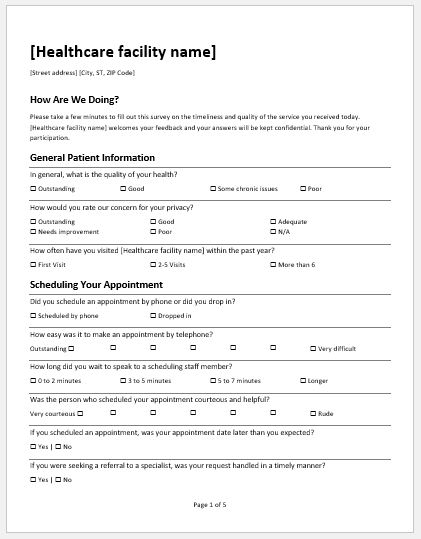 Template
File: Word (.doc) 2003+ and iPad 
Size 44 Kb | Download