Patient exit form is used by those people who were admitted to the hospital for a particular treatment, and now they want to exit after the procedure has been completed. This form is kept as a record that the patient has exit the hospital after clearing all the pending dues. The primary purpose of using this form is to keep the record of the date on which the patient did exit.
Since the registration of the patient is also done at the time of admission, the record of patient's departure is also important to keep. The patient exit form is important for the hospital's record keeping. It is also vital for the patient since it enables him to clear all the payment and treatment details. The form is also useful for security reasons.
Since the patient hospital exit form is an essential document, it is being used by all the hospitals. Many hospitals prepare their own exit form while some of them use the ready-made template.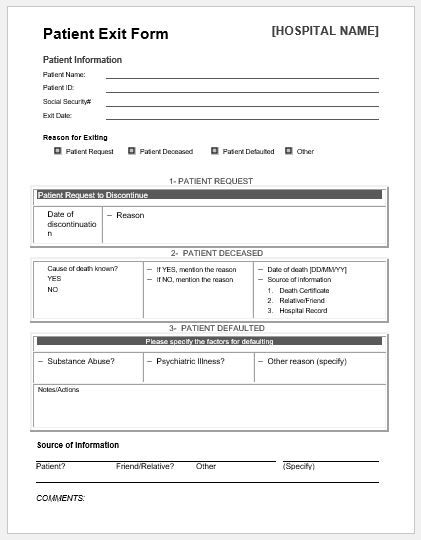 Patient Exit Form Template
File: Word (.doc) 2003+ and iPad 
Size 33 Kb | Download
License: ENERGY [Personal Use Only]
---
The main details that are added to the form are:
The name of the hospital
The name and contact information of the patient
The type of treatment given to the patient
Total fee paid by the patient
Number of days the patient has spent in the hospital
The name of the doctor who has given the treatment to the patient
Reason of patient's exit
The signatures of the patient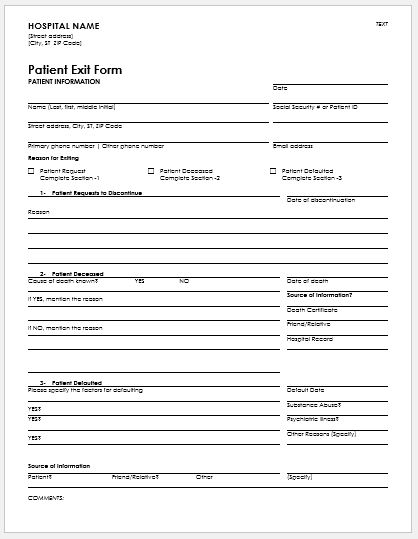 File: Word (.doc) 2003+ and iPad 
Size 33 Kb | Download
License: ENERGY [Personal Use Only]
---
The Templates
The template of the exit form from the hospital is available in printable format. The templates contain all those details that are needed by a hospital. It contains information which is easy to fill and edit. If some details are specific to a hospital, the editor can add them to the template through the customizable feature of the template. This feature makes this template highly useful for the management of the hospital keeping track of the patients entering and exiting the hospital.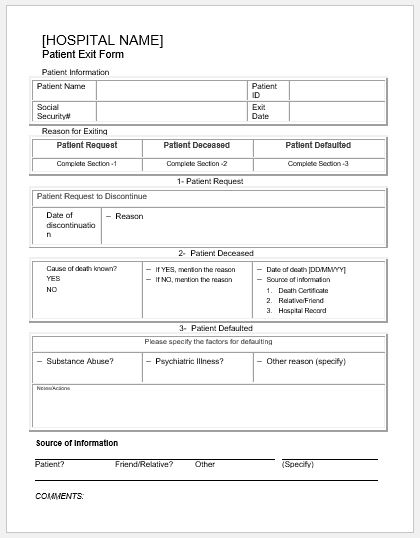 File: Word (.doc) 2003+ and iPad 
Size 33 Kb | Download
License: ENERGY [Personal Use Only]
---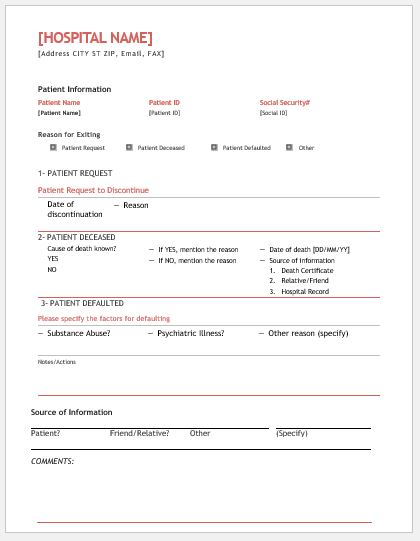 File: Word (.doc) 2003+ and iPad 
Size 33 Kb | Download
License: ENERGY [Personal Use Only]