Whenever a patient is not satisfied with the facility provided by the hospital or the service that the staff of the hospital has provided, he can fill out a patient grievance form to submit his complaints to the top management.
There are lots of queries that are added to the patient grievance form so that the patient can easily elaborate what he has experienced. The form can be forwarded to the medical council after filling. It is important to fill the grievance form with complete details so that the management of the hospital can know about the nature of the problem faced by the patient.
Key elements of patient grievance form:
The main details that are included in the grievance form of the patient are:
The name, address and contact information of the patient
The name of the doctor from whom the patient has got treatment
The name of department where the patient was admitted
Date of complaining
Signatures of the patient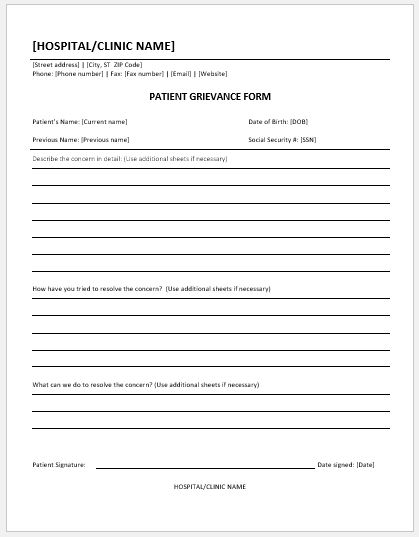 Patient Grievance Form Template -1
File: Word (.doc) 2003+ and iPad 
Size 32 Kb | Download
License: ENERGY [Personal Use Only]
---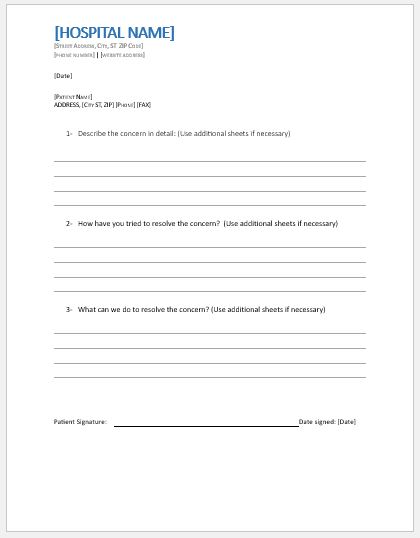 File: Word (.doc) 2003+ and iPad 
Size 32 Kb | Download
License: ENERGY [Personal Use Only]
---
When to use the patient grievance form?
This type of grievance form is used when the patient wants to lodge a complaint against the poor services of the hospital. The relatives of the patient can also use this form to the complaint on behalf of the patient.
The patient grievance form is always needed by the person whenever he wants to complain about the health facility. The form is usually provided by the management of the hospital for getting the reviews about the performance of hospital staff.
The template for the patient grievance form is the best tool for those who want to avoid the hassle of creating the form from scratch. This form template includes all those details that are needed in a professional patient complaint form.
It is an easy to use a software program that enables the user to add the details and print it. The template has been divided into some segments that make it easier for the user to fill it. If the details of the form are not sufficient enough, the user can modify it according to his needs.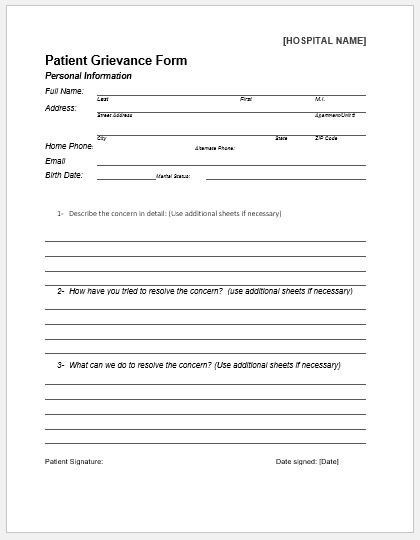 File: Word (.doc) 2003+ and iPad 
Size 34 Kb | Download
License: ENERGY [Personal Use Only]