Invitation Cards
Some people look for reasons to celebrate and others can celebrate any minute of their life. Who doesn't like parties? From kids to adults, from introverts to extroverts, everyone enjoys parties. Every person can have a different personality but every person can find something that fascinates them in a party. From food to songs, from games to dances, a party can be one-stop for all our fun activities.
We might get an offer for a party and we just refuse it because we want to spend our weekend at home and not moving around. But we should never underestimate the importance of gatherings. Like air is important to keep our life going, in the same way, our social circle is important to keep us mentally healthy and able. Social gatherings can have numerous benefits. Not to forget, we not only enjoy, but we also make friends. The everyday monotonous routine makes us boring and kills our creativity. Going to places and meeting new people can help us understand their views and ideologies. Eventually, it will make us more productive and creative.
Planning a party can be fun these days. Hosting people is enjoyed by a lot of people. Before a party, it is better to plan it well so that no one feels ignored and everyone has something for them. Preparing an invitation list at least one week before the party can be very useful. You will not miss any one from the list and you will have an idea in advance as to the quantity of food and seating requirements.
The world has become very casual and modern. We see casual environment at work and even universities. Being casual can make us feel our self and save our time. But if we invest a little effort in our actions, it will indicate the dedication and respect we have for our friends. Party invitations can be a good way to invite friends and family. It might seem very traditional and conventional but invitation cards have valuable information which makes it easy for the guests to locate the venue and understand the party theme.
If we post a party flyer on a bill board, a lot of people might read it but very few will be interested. But if we invite someone by sending them party invitations, it shows that we want that person to be a part of our event. Invitation cards make it easy to remember the date and the place of the event.
Party invitation cards for MS Word is something very unusual but amazing. You need a little effort and expertise to design a beautiful looking fancy card for your upcoming party. Choose the one from the templates given below, CUSTOMIZE & print to start people inviting.
Preview & Details of Template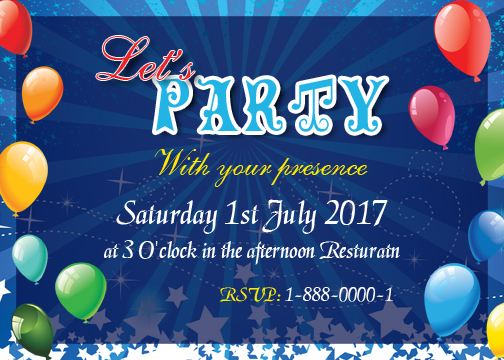 Party Invitation Card Template
File: Word (.doc) 2003+ and iPad 
Size 401 Kb | Download
License: ENERGY [Personal Use Only]
---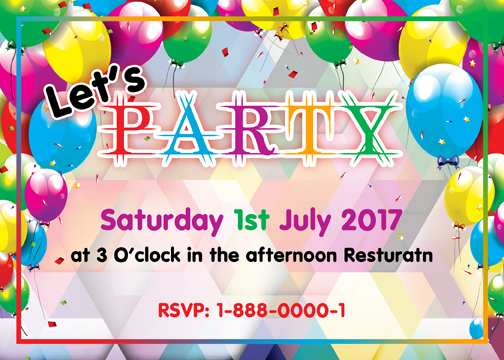 File: Word (.doc) 2003+ and iPad 
Size 2 Mb | Download
License: ENERGY [Personal Use Only]