The world is changing and with this changing world, everything is changing. Even the most mundane acts have changed. The traditional ways of shopping have been changed by the online shopping. A few years ago, we would go out to the malls, visit different shops, compare the prices and then shop what suits us the most. But now, this whole picture has been changed. We log in to the internet, we surf different websites, and we look for what we want and order it online.
Marketing has been evolving around the everyday needs of people. Brands and companies are trying their best to provide what the customers want right at their doorstep But this is not an easy process. The companies require a lot of information to provide you the best product. They not only need information from you, they also need to tell you what's new and why should you choose them. For these reasons, various marketing channels are available. But the most effective one can be newsletters.
Newsletters are not every time selling you the products. They even help you become an expert in the field. A newsletter is a small piece of information which helps your customer by providing them with helpful information. They can be one page or even more.
A newsletter is just like a newspaper. We do get a lot of newsletters in our inbox every day. But in all honesty, do we open a single one of them to actually read it or we just delete it straight away.
If you want people to actually read your newsletter, make sure you add the following elements in them:
Brevity
We all have access to raw data and information every day. No one needs that. Every newsletter is based on a theme. And the newsletter should be focused on that theme. If a reader is looking for that topic, he will go through it, if he does not get what he wants, or he gets data about ten different things on one page, he might lose his interest and move on. A newsletter should be designed in a way that a reader takes no more than 3 minutes to read it though.
Storytelling
Storytelling is a very important art not known by everyone. We still remember our grandmothers telling us the best fantasy stories in a way that we believed in them. This is the way a newsletter has to present the story. Offering some secrets in the story should be a must. If a reader gets to know the most important ingredient in the recipe, he will definitely follow you.
Reader Focus
Your readers are interested to know how can they improve their life or how can they improve their personal life. They are not interested to know what is happening in your life. So give them what they want to read. Don't give them what you want to write. Uploading videos and pictures which are reader focused are more attractive than the unnecessary content.
Design
The design is one of the most important parts of content marketing. It is very important to have a professional design of the newsletter. An attractive design will encourage leadership and support the brand.
Following are given sample templates that range almost every field of interest. Download & have a readymade newsletter prepared for you in MS Word format.
Preview and Details of Templates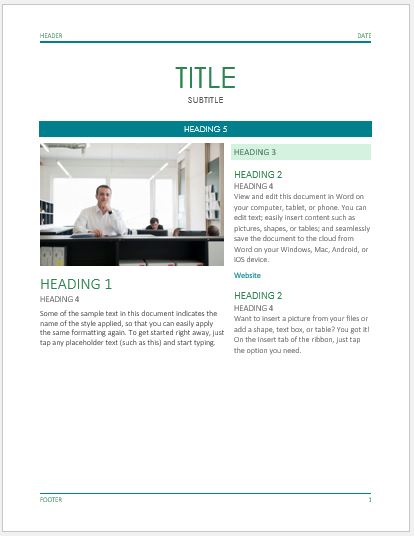 Newsletter with Headings
File: Word (.doc) 2007+ and iPad 
Size 1573 Kb   | Download
No. of Pages = 2
---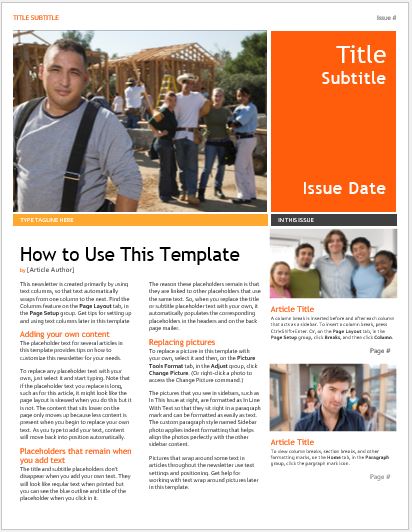 Business Newsletter
File: Word (.doc) 2007+ and iPad 
Size 3409 Kb   | Download
No. of Pages = 6
---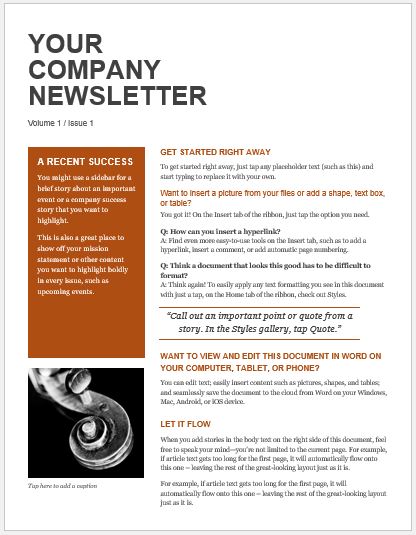 Company Newsletter
File: Word (.doc) 2007+ and iPad 
Size 340 Kb   | Download
No. of Pages = 2
---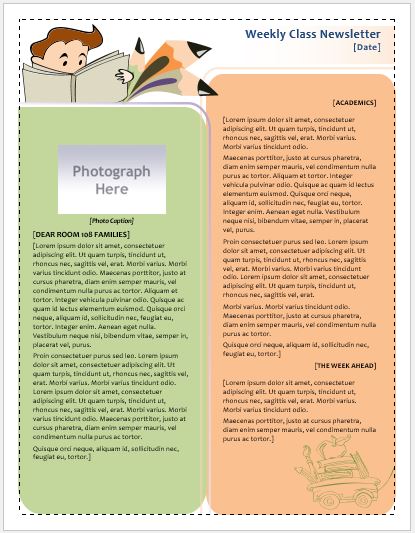 Class Newsletter
File: Word (.doc) 2007+ and iPad 
Size 950 Kb   | Download
No. of Pages = 2
---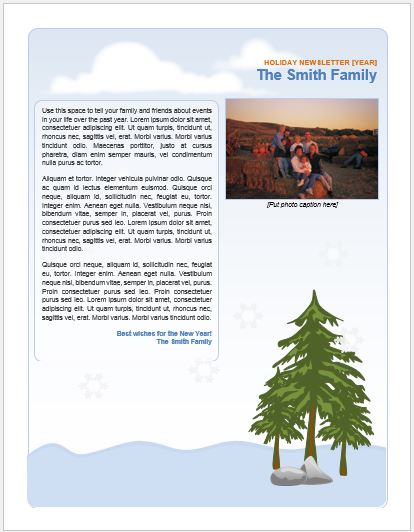 Family Holiday Newsletter
File: Word (.doc) 2007+ and iPad 
Size 1213 Kb   | Download
No. of Pages = 2