New Year is an extremely festive time of the entire year. Everyone looks forward to the festivities and celebrations. There are parties in your neighborhood as well as in your office. In addition, your entire city seems to be in a very joyful mood. Those who arrange New Year parties can send out invitations through New Year event flyers.
Such flyers are particularly useful for office events. The entire staff from the top management to lower grade employees can be informed about New Year events through flyers. It is a great way of sending out an open invitation in an economical way. Similarly, such flyers can also be used by owners of eating outlets who have arranged special events for the New Year.
Potential customers can be attracted by creating eye-catching flyers which promise a great evening. It is a great way of carrying out promotion and increasing sales.
New Year event flyers can be created easily without investing too much time or money. There are a plethora of free templates available on the World Wide Web. Most of these templates are free and come with customization options. Users can avail of these options to give their flyers a personal touch. Make them more attractive, add relevant information, and include a special message.
These steps are going to ensure that a large audience is attracted by the flyers. This is one of the best ways of sending out open invitations or advertising a place. It is very easy to distribute flyers among the masses.
Preview and details of templates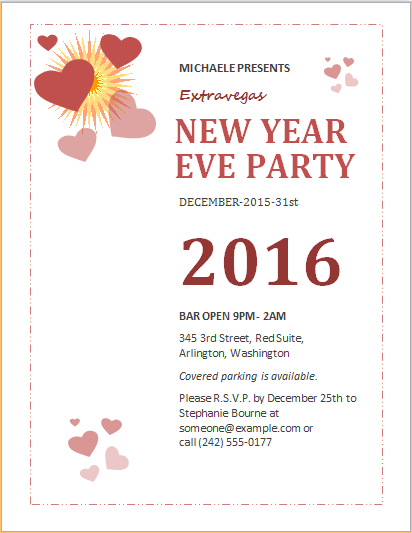 File: Word (.doc) 2007+ and iPad Size 71 Kb |
Download
File: OpenOffice (.odt) Writer [Writer] Size 25 Kb |
Download
License: ENERGY (Personal use only)
(Distribution) by Kate Elizabeth(CEO)
---
New Year, a time where people around the world take a fresh start, celebrate its festivity in full swing with cake cutting ceremonies, fireworks, bonfires, music, dance, and scrumptious food with their friends and relatives. Social meetups are held at every place where galas and fest are arranged for people to commemorate their year with all the bright hopes and optimism.
Generally, the trend of setting a New Year resolution is very common where individuals make a commitment to themselves to get rid of certain habits that have been distracting them from their life goals. They want to transform themselves into a new and better version of themselves. The first page of 365 days book is opened for us and gives us the energy to contemplate over the things that we have to achieve for our own contentment and for our loved ones.
Throwing a party for your clan can be very exciting and yet a tedious job to invite everybody independently as already the one who is managing a big event is overloaded with a bunch of arrangements to be done for a well-managed party. So in this phase, when you are running short of time and don't know what to do? How to invite all the guests at the same time over your place. How to make them enthusiastic about the coolest party that you have been planning to organize for the New Year?
NO WORRIES! 2021 is right around the corner! So we've drawn together a compilation of the most up-to-date brochures and invitation cards to bring in the New Year Party with its full bloom. Unchain the finest proposed design patterns with payment to wordexceltemplates.com.
Keep it simple with a modest theme or inspire fortune with a couple of abstracts. Have the benefit of varied designs accessible in diverse formats. Beautiful and aesthetically pleasing circulars are what you need to advertise your long-planned occasion, having covered all the important details like, a venue where the party will be happening and the charms and luxuries that your party can offer to make the year more special, more enchanting.
Make them shout out loud Happy New Year when they see your advertisement! Need more help? Let us know! Check out the specialized handouts for your lavish festivity at our website for all your flyer needs! Our designs are chic and sophisticated and work well with almost every occasion. Systematize your advertising for the New Year with a fashionable choice. Make it an exclusive affair with our trendy pamphlets.