Shipping Invoice
Shipping sales invoice is a commercial invoice that is used by many organizations and companies while transferring or shipping goods overseas. This sales invoice helps in identifying all the details and complete information about the sales. These information details include the name of the sender, complete contact details of the sender, complete name of the company, and all necessary information pertaining to nature of goods and details of the shipment. This invoice template may be having a company logo to be placed on top of the document.
About Template
A shipping sales invoice must be signed by all the concerned parties involved in this shipping transaction. If you have no idea about this shipping invoice, you can search online to find some templates that can help a proper and professional looking shipping invoice. If you are looking forward to creating or prepare a shipping sales invoice or want to download it from some website, both these things are very different. If you want to create your own invoice that is according to your requirements then you need to put a lot of time and effort in it and if you want to hire some professional for this job then you need to pay him a handsome amount for this.
On the other hand, if it is downloaded, it is simple and can be modified according to requirements. The main contents of this invoice template include a serial number, details of shipment items, quantity, rates and total payable amount. The name of sender and receiver are also mentioned along with complete addresses of both parties.
Preview and Details of Template



Commercial Invoice -2018
File:Excel (.xls) 2007+ and iPad
Size 46 Kb   Download
---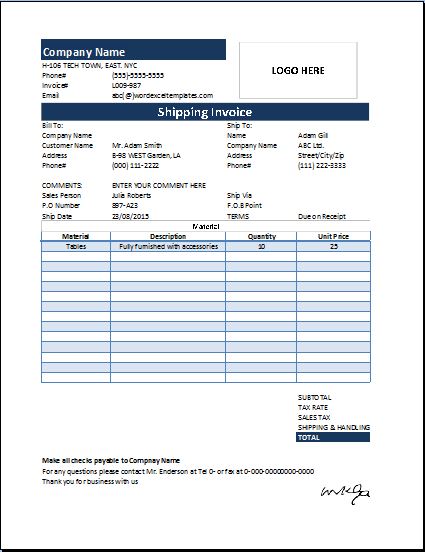 File:Excel (.xls) 2007+ and iPad
Size 46 Kb   |   Download
File: OpenOffice (.ods) Spreadsheet [Calc]
Size 33 Kb   |   Download
License: ENERGY   (Personal Use Only)
(Not for resale and distribution) by Kate Elizabeth(CEO)