Excise Invoice
An excise invoice template is used generally when the products are documented not inside but outside of a factory. There is a number of products that are being moved in or out from a factory on daily basis. There are a lot of taxation and policies that are available and required to be checked at every cost. When it is something related to excise department, there are a number of requirements like company registration, the current status of registration whether it is valid or expired and many other things.
In an excise invoice template, it is easy to find these details like the serial number. And it is mostly required when the product moves outside the factory. Whenever any product is stopped in the transit by the excise department staff, it is mandatory to show the detailed excise invoice format for clearance. Just in case that any flaws are found in these documents, the same product is ceased by the excise department staff.
About Template
Excise invoice template is a business document that is used to enlist all those goods and products that are issues outside by any manufacturing plant and this excise invoice tells all the details that how excise duty applies to these goods. Usually, this excise invoice is used for those goods which are delivered or transferred from the company or manufacturing concern to outside. There are also certain codes mentioned on this concise invoice which can only be read, understood or intercepted by excise duty staff. A number of excise invoices are available online in different designs and excise formats for common users.
Preview and Details of Template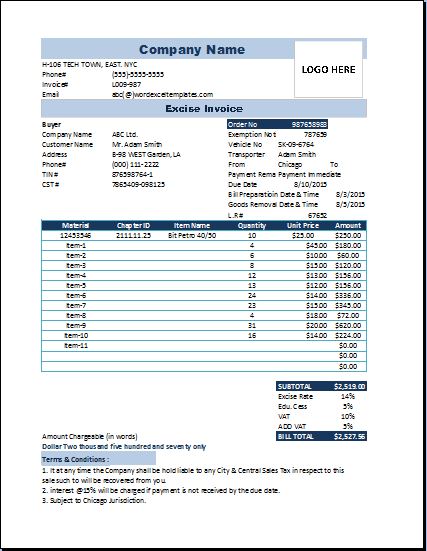 File:Excel (.xls) 2007+ and iPad
Size 48 Kb   |    Download
File: OpenOffice (.ods) Spreadsheet [Calc]
Size 34 Kb   |    Download
License: ENERGY   (Personal Use Only)
(Not for resale and distribution) by Kate Elizabeth(CEO)