Management skills cover letter is a document that is prepared by a candidate who is applying for a vacant position in an organization. This letter is addressed to the potential employer and is sent along with the resume. In this letter, the candidate utilizes a chance to market himself, in terms of his experience and skills, to convince the addressee of his match to the applied position.
This letter is written when an individual is applying for a management job or a job that requires managerial skills. The content of the management skill cover letter can vary based on the candidate's experience, skills, desires, requirements, etc. However, to increase the chances of selection, it is important that all the relevant skills that are related to management must be stated in the cover letter.
The general details included are:
Date.
Information on the candidate.
Information about the potential employer.
Mention the applied position.
State relevant experience, skills and expertise.
Convincing statements and supporting arguments for your selection.
State benefits that you can bring to the new company.
Mention the attached documents.
Salutations and signature.
Usually, as it is the opening document, the cover letter marks the first impression of the candidate. Therefore, it should be thoroughly prepared, with the right choice of words and information.
An impressive and well-written cover letter often attracts a potential employer, and he might get interested in the candidate's documents and selecting him for the job. On the other hand, a cover letter that is poorly written may push the potential employer away even from considering the qualifications and experience of the candidate.
Sample Management Skills Cover Letter
Date
Name
Address
Dear Mr. William,
I am writing this letter in reference to the position of 'Sales Manager', that was posted on your website on 6th February 20XX.
I am already serving as a sales manager in XYZ corporation. However, due to some personal reasons, I am moving to ABC state in the coming month, due to which I am looking for opportunities in the ABC state.
I believe I am a perfect match for this position at your company, as I have the relevant experience and skills. During my time with the XYZ corporation, I have learned many managerial tactics and have developed various skills, which I can bring to your company.
My communication and team-working skills have helped me win the best manager award for two years in a row. In addition to that, I have been able to increase sales by 50% during my three-year period at my current XYZ company. As both XYZ and your company deal with baby-care products, my in-depth knowledge in this filed can bring benefits to your company as well as would help me in adjusting to your company.
Along with this cover letter, I am sending my resume and other required documents. Please let me know at [X] if any other information is required.
Looking forward to hearing from you soon.
Regards,
Sarah Watson.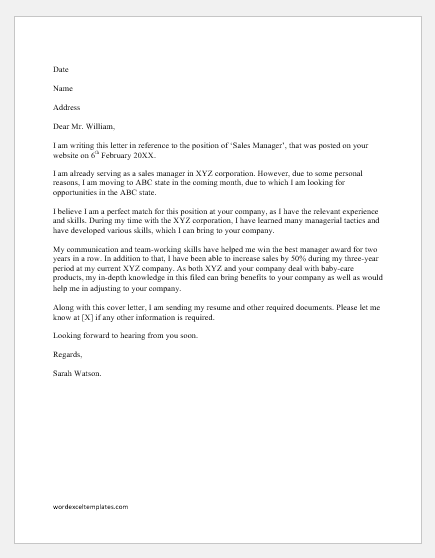 File: Word (.docx) 2007+ and iPad Size 19 Kb |
Download
---