Kids' Activity Schedules
It is a real challenge as a parent to manage time with your kids. Parent got to spend a lot of time with the kids and must make sure that the time they spend together is not only connecting them well but is educational for the kids as well. Computers and tablets have taken the place of books and parks nowadays. Activities of the kids are reduced due to these gadgets. But a sensible parent always knows how to make sure that their kid is enjoying life to its fullest. This is done by allocating specific time for everything in a kid's life. From sleeping to waking time and studying to resting time, everything is planned and organized. This helps the kid to be organized as well. Development of healthy habits is done by maintaining a routine in life rather than living recklessly. Kid's activity schedule allow the parents to allocate specific day and a specific time to each activity. This will prevent the kid from spending a lot of time in front of screens and his time will be well spent.
What is a Kids' activity schedule template?
A kid's activity schedule template is a spreadsheet that is designed to organize a kid's activities on a daily, weekly and monthly basis. There are a lot of activities that a kid can do such as learning piano, swimming, karate classes etc. A parent should always be broadminded while making the schedule. You don't have to make a very tough schedule. All the activities can be accommodated with seven days of the week. Proper rest should be allocated.
You can have a template designed by our experts. They have made several columns where you can put the activities that your kid is going to do. The template is divided into seven days. Another row is for the allocation of the time interval to every activity. The Kids activity schedule template is made to organize a kid's life and utilize his time in healthy activities. You can download this template from the link given below.
Preview & Details of Template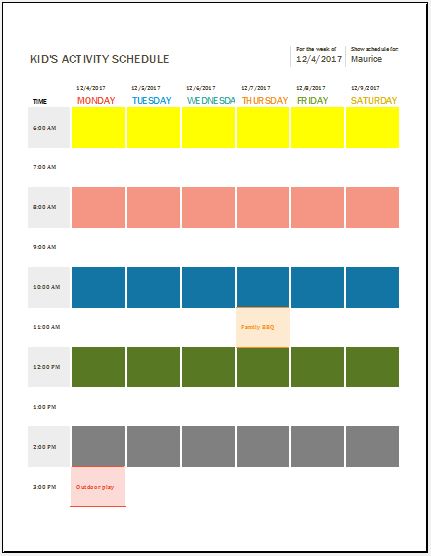 Kid's Activity Schedule Template
Prepare daily, weekly & monthly activity schedule for all of your kids at one place.
File: Excel (.xls) 2003+ and iPad 
Size 987 Kb | Download
License: ENERGY [Personal Use Only]