Sign off sheets are something which is most commonly seen everywhere now from a coffee shop to a corporate firm. These sign off sheets are used ordinarily in our daily life. Usually, employees are expected to sign on the sheets after leaving the office or workstation. In other words, this sign off sheet works as an attendance sheet and ensures the presence of each employee. This sheet is used most commonly in factories where manual work is done and after finishing the working hours each employee has to sign off in front of their names.
In a more advanced job sign off sheets, some space is left out for the workers so that they can write down comments on the condition of the machine they were working on. So, apart from the attendance purposes, this sheet may also serve as a bridge between the workers and the management to some extent. This feature may also help the worker of the second shift to get a good idea of the condition of the machine if the factory works in shifts.
Other than this, the sign off sheets also helps the companies to keep a good track of the performance of the employees. As a worker's performance can majorly depend upon the time he gave to the company and it can be measured by just looking at his sign off sheets. This can also help the managers decide who to promote when and who to demote.
Usually, a template is used to design a sign off sheet to keep everything smooth and efficient. A typical job sign off sheet template carries the name of the company or firm which is using it, the period to which it relates and along with the name and designation of the employee. Columns should be drawn out for each date of the relevant period and the date and time should also be mentioned. Another column should be dedicated to the signature of the employee for each day against each date. The pattern followed by each template may be different, but a typical job sign off sheet carries all these necessary details on it.
Preview and Details of Template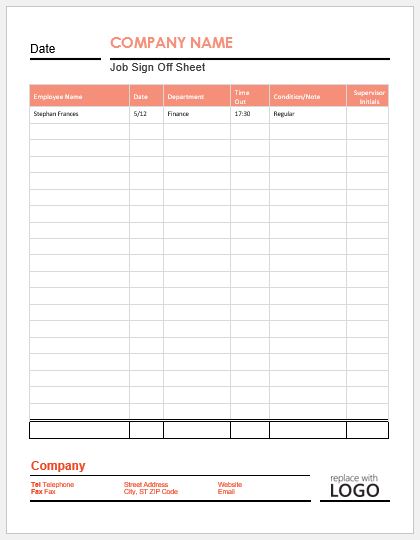 Job Sign-Off Sheet Template
File: Word (.doc) 2003+ and iPad 
Size 24 Kb | Download
License: ENERGY [Personal Use Only]
---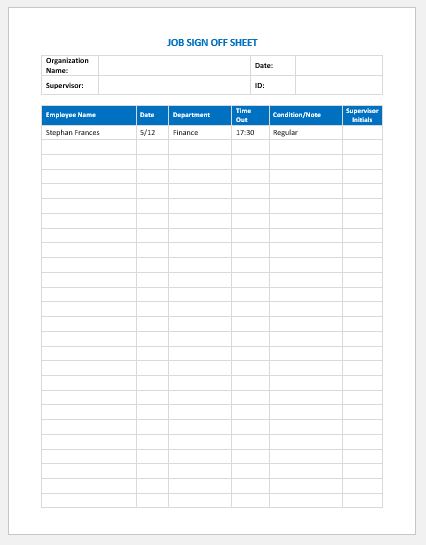 File: Word (.doc) 2003+ and iPad 
Size 24 Kb | Download
License: ENERGY [Personal Use Only]
---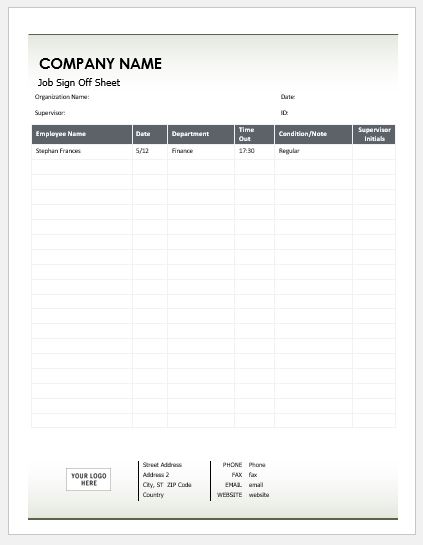 File: Word (.doc) 2003+ and iPad 
Size 24 Kb | Download
License: ENERGY [Personal Use Only]