A job refusal letter is either written by a candidate/applicant and is addressed to the employer or written by an employer to a candidate. The purpose of this letter is either to reject a job offer or a candidate.
The information contained in the letter would determine the writer and the addressee. If a candidate writes it, the purpose of the letter is the refusal of an offered job. On the other hand, if an employer wants to dismiss a candidate's application for a job, he would issue a refusal letter.
Sometimes, a candidate or an employer rejects verbally. However, it is always advisable to send a formal letter, one because it is a professional way secondly, it can be kept in a record for any future reference.
The candidate may reject a job offer for various reasons such as:
The candidate got a better job offer.
The offered salary is not practical.
The job offer is for another unsuitable location.
The contract demands more than what a candidate is willing to offer.
The applicant does not consider himself a fit for the job after going through the interview or hiring process.
The employer may send a refusal letter for different reasons as well which may include:
Another applicant has been selected.
The candidate's qualifications or experience were less than the required ones or another candidate is a feasible choice.
The demands of the candidate (which may include salary) were more than what the employer is willing to offer.
The employer deems the candidate a better fit for another vacancy in the company.
The format and content of the job refusal letter may vary from company to company as well as the writer and the addressee but the general format of this letter is:
Date
Details of the writer.
Details of the addressee.
Gratitude for the interest.
Inform about the refusal.
State reason, if any.
Best wishes.
Although the letter needs to be courteous yet, it needs to serve its purpose being straightforward and inform the candidate or the employer about the rejection so as to avoid any misunderstandings. When the candidate or the employer is sending a refusal letter, it should be kept in mind that it is not a negotiation letter, and rejection means that the doors are closed for the job or to the candidate for the particular work.
Additionally, a refusal letter should not be considered a bad thing that would have a strong impact on the candidate's career or the employer's reputation. If it is done in a professional way, the negative impacts can be minimized. For instance, no matter who is issuing the letter, it needs to be always sent on time as it would be beneficial for the addressee to receive it soon. This can help in avoiding ghosting (improper communication from the employer) or seeking another candidate or a job.
---
Job offer rejection letter due to personal reason
Dear [Name of Employer],
Please address this letter as a rejection of the job offer I received. Due to some recent personal issues, I will not be able to accept this opportunity to work at [Name of Organization]. This is quite an unfortunate situation and I am very sad to pass up the opportunity of working at an organization like [Name of Organization].
Thank you for considering me as a possible future employee. I hope we can work in the future together.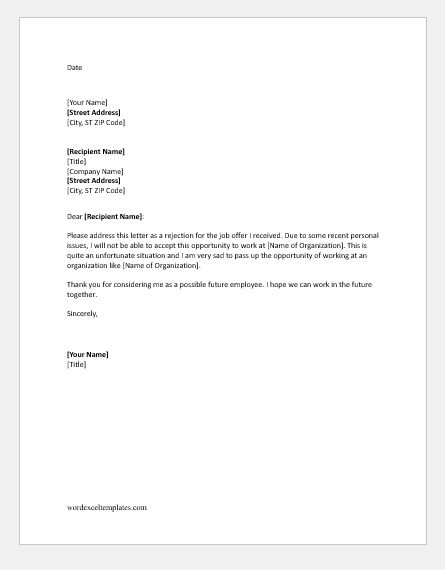 Job offer rejection letter due to salary
Dear [Name of Employer],
It is with regret that I write this letter to you stating that I have to refuse the job offered to me as a [Job Title] at [Name of Organization]. I would like to work for your organization as it will be a great experience for me. However, the salary package being offered for the position does not meet my expectations.
As I have been working in this field for a good amount of time, I have built up my skills and experience levels immensely. I am also currently working as [Current Job Title], with a salary package of [Pay details]. This package also includes life and health insurance and other miscellaneous benefits. In comparison, I will be earning less if I became an employee at your organization.
Nonetheless, I would like to thank you for your job offer.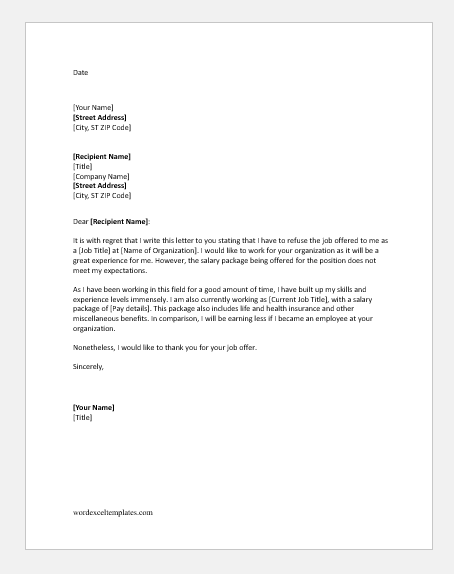 Letter declining a job offer after accepting it
Dear [Name of Employer],
I, [Name of Candidate], was offered a job as the [Job Title] at [Name of Organization], which I accepted immediately. However, it is with regret that I decline this job offer.
Being an employee for [Name of Organization] would have been a great opportunity to develop my skills and gain experience. However, due to some recent unfortunate events, I will not be able to work at your organization. Recently [Reason for rejection, for example, moving out of the city, etc.]. Therefore, I sadly have to decline the job offer.
Thank you for your consideration and I hope you will understand my situation.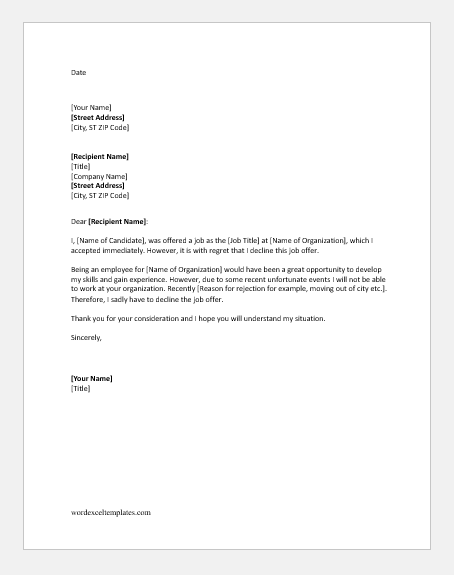 Job Rejection Email\Letter to the Company
It is humbly stated that after passing the first phase of my interview I have been selected for the next round. I am very thankful to you for considering me for the post of [INSERT DESIGNATION] in your company. But I am sorry to inform you that I have already been selected in some other company for the post of [INSERT DESIGNATION]. The nature of that job is quite challenging and opportunity friendly that is why I would like to go for that one from the perspective of better career growth.  
I anticipate that you will understand that the real purpose of the job is to plan your future and I am doing the same. Once again thank you for your consideration.
Sincerely,
Job Rejection Email\Letter to the Employee
Our company wants to thank you for sparing your time for the interview you were here today. We want to inform you that the company has hired another candidate for the post [INSERT DESIGNATION] you were interviewed. That candidate has scored competitive to qualify for the post. Although we selected some other candidate for this post but not to select you was neither an easy decision for the panel.
Although you have not been selected here we would like to back you up to consider applying for other jobs that fit your credentials. We anticipate working with you in the future. We appreciate your interest in our company. Best wishes on your next undertakings.