There are many inventory checklist templates available on various websites over the internet. Choosing a right inventory template can help you organize your stock in the store in a better way. To make your inventory more organized, it is always beneficial for you to use the template that offers a lot of customization features.
Business checklists are one of the most common documents used in any business. With the help of the checklist, you can easily manage your assets and keep track of all your possessions. No matter you want to get inventory for your home or your business, you will always in need to use the inventory checklist.
Key components of the template:
The main items that are added to this checklist are:
The inventory number
Description of each item in the store
Serial number
Date
Details of vendor
Cost of the inventory
Estimated value of each item in the inventory
The importance of inventory checklist:
It is the desire of every businessman to have a store full of stock. There are lots of efforts which are put to ensure that all the items that are required to be there in the stock have been brought in the inventory. The easiest way is to use the checklist to ensure that no important item of the inventory has been forgotten.
Inventory checklist template:
The inventory checklist template is available in MS Excel format. The template provides easy access to its users. It has been formatted in such a way that the user finds it so easy to input the information into it. It can be downloaded free of cost. If you think that the existing columns are not enough for you, you can add more columns to the template using easy to customize feature.
This checklist template boosts the process of tracking the inventory that saves time and money. It also protects the user from preparing an inventory checklist document from scratch.
Preview and Details of Template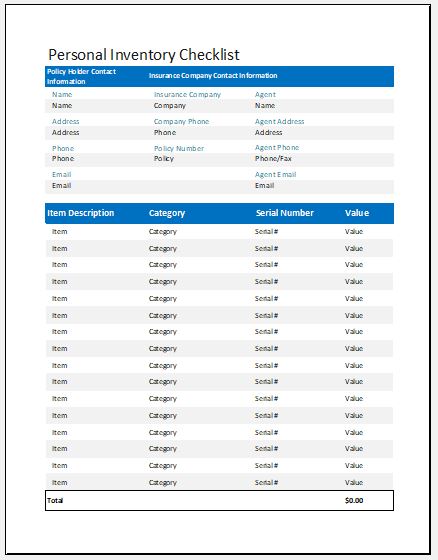 Personal Inventory Checklist Template
File: Excel (.xls) 2003+ and iPad 
Size 33 Kb | Download
License: ENERGY [Personal Use Only]
---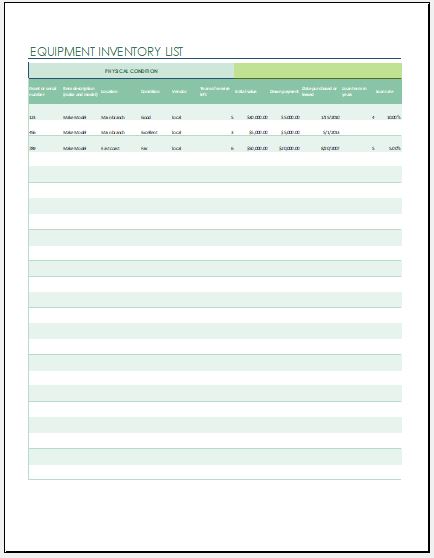 Equipment Inventory Checklist Template
File: Excel (.xls) 2003+ and iPad 
Size 26 Kb | Download
---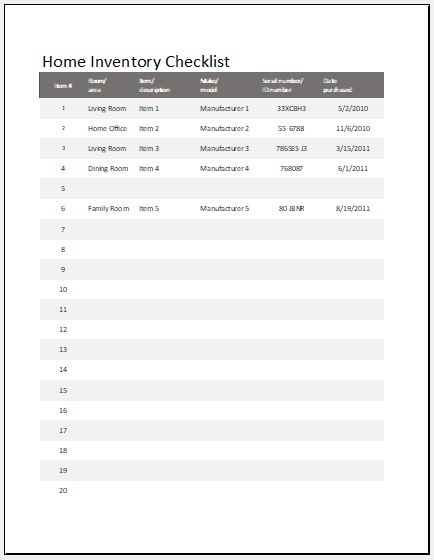 Home Inventory Checklist Template
File: Excel (.xls) 2003+ and iPad 
Size 26 Kb | Download
---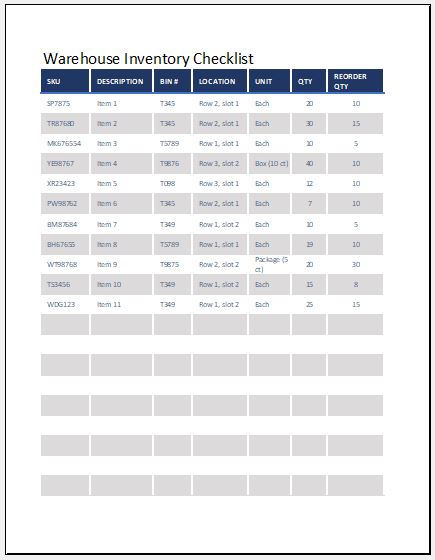 Warehouse Inventory Checklist Template
File: Excel (.xls) 2003+ and iPad 
Size 26 Kb | Download