It is hard to come up with the routine of the school in the holidays. The school going kids have to do the homework on daily basis but if it is not managed well, then it would pile up within days and at the end, you will be left in despair and disappointment. During the school days, some kids find it difficult to do their regular homework. The fact behind this is that their time is not managed well. They do not rest properly and do not sleep well. They remain tired all day and at the end of the school, they have zero energy left to do anything. To do homework at home in an ordeal that seems an arduous task to them. As a result, they are not only left behind from their classmates in studies but their personality and confidence are shaken as well. To save a kid from all this, it is essential to have a Homework Schedule for daily, weekly and monthly basis in case of holidays. This helps to cover the syllabus on daily basis and the kid shows well in his school.
Making a Homework Schedule template on a page is not easy. You can make these templates using Microsoft Excel but if you are not aware of using it then you can download homework schedule template from online sources.
What is a Homework Schedule Template?
A homework schedule template is a spreadsheet used for scheduling the homework of your school and college going on the basis of subjects on an everyday basis. You can allocate specific hours and intervals for doing each subject's homework. This will allow the kid to study every subject for some time every day and he will finish the homework with much time left to play and watch television. Having a homework schedule template releases all the messiness and time wastage from a kid's life. You can download our template which is designed by our experts for your use. It is customizable so you can add subjects and timing according to your needs and requirements.
Preview and Details of Template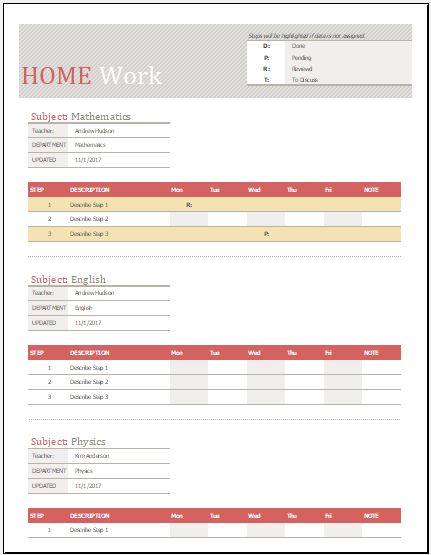 Homework Schedule Template
File: Excel (.xls) 2003+ and iPad 
Size 25 Kb | Download
License: ENERGY [Personal Use Only]
Homework Calendar Template
File: Excel (.xls) 2003+ and iPad 
Size 26 Kb | Download
Task Assignment Sheet
File: Word (.doc) 2003+ and iPad 
Size 26 Kb | Download