Gift Certificates
Halloween gift certificates add to the festivity of the holiday season. These certificates are awarded by shopping stores, eating outlets, beauty salons or other businesses in order to attract clients. It is a bounty for the receiver to win such certificates. Amazing deals can be availed on shopping, eating or other services. For this reason, business owners can attract more clients by awarding Halloween gift certificates. There are templates available on the internet which can be used to create such certificates in no time.
You can choose from an amazingly wide variety. The design can be kept simple for the least amount of cost. On the other hand, more attractive template designs can also be used. Different colors, interest images, and eye-catch font styles make the certificates more appealing. Blank spaces should be left to write down the name of the certificate's receiver. An expiry date should also be added so that people avail the offer as soon as possible.
These certificates can also be passed on from the actual receiver to family or friends. In fact, they serve as a nice gift for birthdays, Christmas or other holidays. Therefore, the quality of the certificate should be good in case it is passed on to multiple individuals. The Halloween season is a good time to hand out such gift certificates. People would be shopping for candy as well as groceries for the holiday meal. They would also be looking for interesting costumes. Halloween gift certificates can be this shopping more fun.
Preview and Details of Template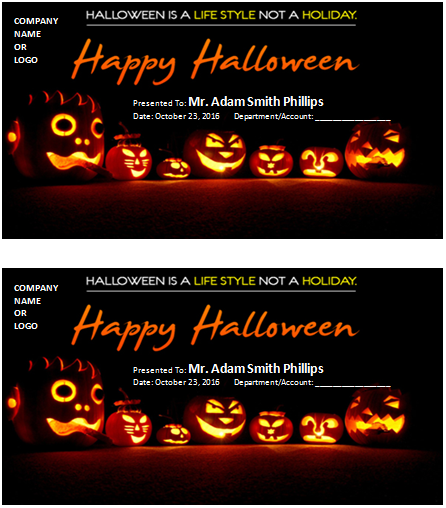 File: Word (.doc) 2007+ and iPad 
Size 188 Kb   |  Download
File: OpenOffice (.odt) Writer [Writer]
Size 209 Kb   |  Download
License: ENERGY  (Personal Use Only)
(Not for resale & distribution) by Kate Elizabeth(CEO)