Parties are organized in almost every event because they make an event more enjoyable and fun. The parties these days have become so prevalent that any event is considered incomplete if there is no party on it. People arrange parties on Christmas, Easter and many other events. Some people also plan parties when they have to celebrate special moments of their life with their friends and family members. Parties are the biggest source of socializing and get together with everyone you love. They also opportunities for all the people to meet others who they don't find time to meet in routine.
Although parties come with a lot of fun, they need to be planned properly so that any inconvenience on the day of the party can be avoided. For this purpose, people tend to plan everything ahead of time using a party planner
What is a party planner?
A party planner is a tool that helps people plan their party when they decide to have a get together at their place.
Why it is important to use the party planner?
Party planners are very important to be used when you have a special event to organize and you want everything to be done smoothly. When it comes to planning the party, people do this job meticulously. Parties are required to be designed and planned with extreme care regardless of the type of event they tend to celebrate.
Sometimes, the host of the party gets too much bogged down by the party organization and planning because there is so much that goes into it. However, if a proper planner is used, it makes the host stress-free because the planning of the party becomes convenient.
What are the benefits of using the party planner?
Party planners come with lots of benefits. Some of them are listed below
People who don't have time to plan the party often rely on the event planners. They hire the professional party planning service providers who do the job of planning for them. A person can easily save the cost if he uses the party planner tool instead of hiring a professional party planner.
It is very convenient to use
People who rely on the party planner tool for planning the party at their place find it very convenient to use the party planner tool because it enables them to remember everything and also lets them plan everything according to their needs.
They help the user remember the things he needs for planning
The party planner sheet enables the user to make a list of all the items that are needed to plan a party in a smooth way. After buying each item mentioned in the list, the user can cross it off just to remind himself that he has purchased. The party planner helps the user plan the meal, the theme of the party, the decoration items needed for decoration of the hall and a lot more in a comprehensive way.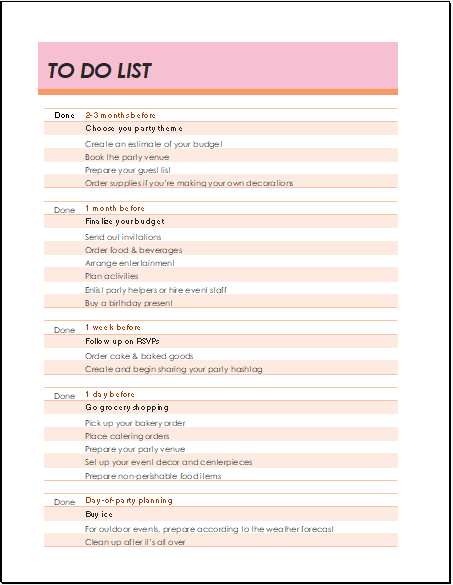 File: Excel (.xlsx) 2007+ and iPad Size 245 Kb |
Download
---