A general receipt is used as an acknowledgment of the basic business process. Sometimes money is given or taken for some small activity between two individuals who are neither service providers nor retail.
For such kind of exchange of money if you want to keep a record of the payment at both ends then a general receipt is used. Also sometimes when your retail shop or service shop is dealing with someone in a process that does not require their invoice receipt then a general receipt is used.
When you have to give proof that you received or gave money for a product or service without much detail this document is needed at most.
It is a document used on regular basis in official work. Whenever a cash transaction is to show or documented then this kind of receipt is used and issued. This receipt does not need to have the company logo or defined fields pertaining to one genre.
The general receipt is just printed showing basic or generic information of the names of two people or companies that are paying and receiving payment respectively. Apart from that, the date of the transaction and the reason for the transaction is mentioned too.
Also, the mode of payment is mentioned as well, whether it is cash, cheque, or by credit card. Usually, the general receipts are printed three at a time.
The General receipt templates available give you a selection in different file formats. You can select the ones that you need and can even change them a bit to make them suitable according to your requirements.
Preview & Details of Template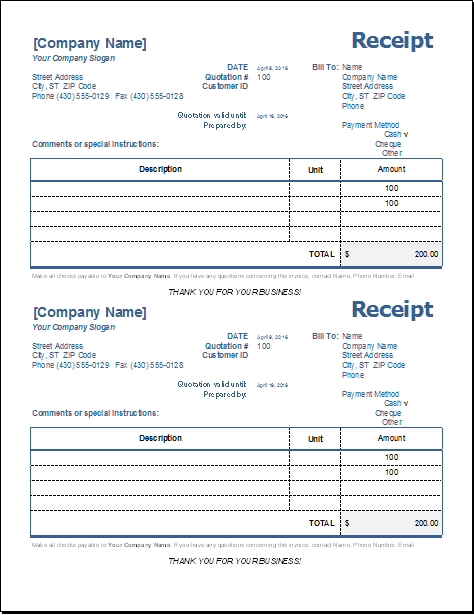 File: Excel (.xls) 2007+ and iPad 
Size 38 KB
File: OpenOffice (.ods) Calc [Cal]
Size 17 KB