A front-desk officer is the face of the company for all the visitors and is an indication of the first impression that a company makes on any guests. The front desk officer needs to have a very pleasant personality and friendly in nature. This individual has to be very disciplined and perceptive. The officer needs to have a customer-oriented approach and should be well equipped to provide the customers with accurate and relevant information.
The front desk officer has to make the guests and visitors feel comfortable. S/he has to be a very skilled person as they need to perform multiple tasks simultaneously. A successful front desk officer is one who is an excellent communicator and has strong administration skills. The officer not only communicates with the guests and visitors, but they also need to have good terms with the other professionals in the company.
A front desk officer must have a high school diploma if nothing more. But a degree in hotel management or hospitality and office management can help build a career. Real-time work experience is very important for the front desk officer.
Sample Resume
Summary:
Professional front desk officer who was responsible to welcome guests and provide for their needs. Familiarity with all the office machines and equipment. Hands-on experience in office management and basic bookkeeping. Excellent communication skills both written and verbal and basic knowledge of multiple languages has helped to easily build a relationship with the customers and guests.
Ability to understand the needs of the guests and respond with relevant information accordingly. Customer service approach has helped a lot to perform well and receive positive feedback. Problem-solving skills in work and otherwise. Knowledge of computer soft wares which are used on a daily bases such as MS office and word.
Objective:
My roles in this job were:
To keep the front desk tidy and presentable with all the necessary materials.
To greet and welcome guests.
To provide information to the guests.
To answer any questions and complaints from the customers and employees.
Work Experience:
[ABC Company]
My roles in this job are/were:
To keep the front desk tidy and presentable.
To greet and welcome visitors.
To answer calls, emails and provide the relevant information.
To redirect the calls to the relevant person.
To receive and distribute any letters and packages.
To draft outgoing emails and letters.
To check, sort and forward emails.
To maintain updated records and files.
To monitor office expenses and document them.
[XYZ Company]
My roles in this job are/were:
To draft correspondence and prepare financial spreadsheets.
To prepare presentations for clients.
To manage the calendars of senior executives.
To organize and arrange business travel for senior management.
To order office supplies and document the expenses.
To perform occasional bookkeeping tasks.
Skills:
Communication skills both written and verbal.
Knowledge of different languages.
Computer skills.
Time management and organizational skills.
Presentable and well equipped.
Reference:
To be provided on demand.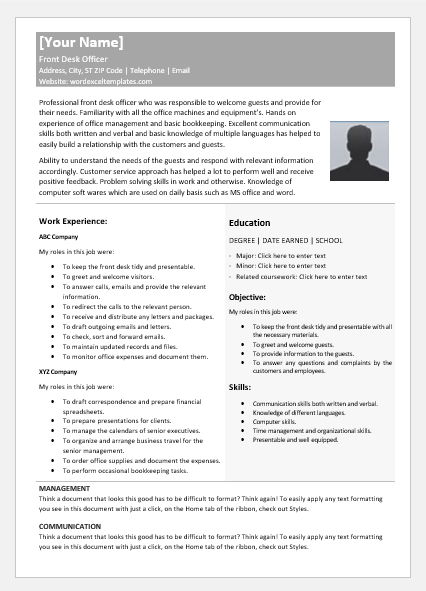 File: Word (.docx) 2007+ and iPad Size 73 Kb |
Download
---