Family Calendars
Why is having a family so important? No one can deny the perks of having a family. A family is important because it provides you love, support, care and obviously home cooked food every day. We share our happiness, sorrows, worries, and grief with our family. Our family not only gives us joy, but it is also our first institution which provides us with morals and values to follow.
The outer world may not accept us the way we are. But our family does for sure. Our likes, hobbies, and interests might be unique for the world, but our family always has acceptance for our uniqueness. Our family is the place and the people where our life begins and where we get unconditional love. Most of the people are born with families, so we might not value our families the way we should. Or we can say, we take our families for granted.
Our family is where we study after school. So basically our family helps us build our career. Our family not only helps us make a career and study, it also helps us to become strong and face the challenges of the world. Our family is the only people we are born with and we have no other choice. We cannot choose our parents but we can choose our friends. This is one of the facts that we do not realize. Our friends and colleagues will stay with us as long as we are successful. Once they see us having hard times, they will stay away from us. But our family are the only people who will never leave us in our hard times.
We are lucky if we have a family. So many people around the globe have no families at all. And if we have a wonderful family, we should praise them and make them feel valued. One of the easiest ways to keep everyone in the family connected is by remembering their important days and moments. Our elders have a good memory and they make sure to remember our big days but even then, making a family calendar can help us remember everything from birthdays to anniversaries. Most of the women in families, put up a family calendar on the fridge or punch it somewhere to keep it in front of their eyes. They mark all the important days in advance which helps them do the necessary preparations.
Template
Given here is a family calendar template by templates.office.com/. The template is a calendar for a whole year. It can be used forever as it is any year calendar template. For every month a beautiful family picture can be selected to put on the page. Select the month, insert picture and PRINT. It's all yours.
Preview & Details of Template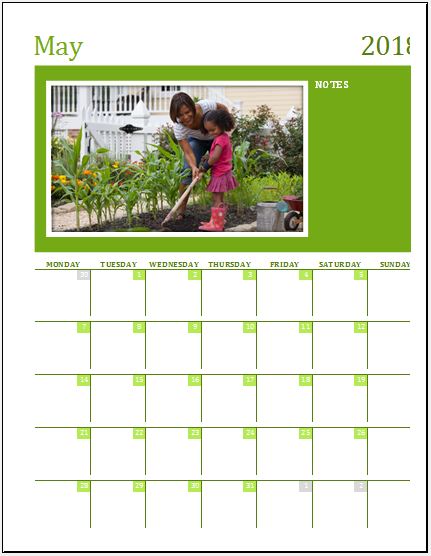 Family Calendar Template
File: Excel (.xls) 2003+ and iPad
Size 987 Kb | Download