Many companies possess an inventory which consists of a stock of goods. These goods may be articles for sale. Alternatively, it may be material or equipment required for production. In short, a firm's inventory may consist of finished products, raw material or partly finished goods which are in the process of being manufactured. In all cases, this storage is of great value. It is an investment made by business owners and shareholders. Therefore, the importance of inventory management and control is immense due to several reasons.
A well-organized inventory is necessary for running business operations smoothly. It leads to a trade-off maintained between carrying costs and ordering costs. As a result, a company's profitability is enhanced since the overall cost of the inventory is minimized. In addition, proper management also facilitates the maintenance of adequate stock. This is vital for smooth production.
Stock-outs, on the other hand, can be disastrous for a business. It may delay the production process and turn away clients. Overstocking must also be prevented. When the number of stocked articles exceeds the requirements, it can be a burden on a company's finances. Therefore, a well-organized inventory creates a balance between a firm's requirements and the production.
There are several ways available for inventory management. Software tools make the whole process highly sophisticated. Many inventory superintendents turn to Microsoft Excel sheets for a simplified and straightforward management. This software program offers extreme versatility in the form of a highly developed business tool.
Companies can cut costs by using an excel inventory sheet for the purpose of organizing their stock. It helps in recording vital information and organizing important data. This information is generally about sales, orders and the stock.
An excel sheet helps in developing and utilizing an extremely useful formula for controlling the inventory. This functionality extends to tracking the stocked items and maintaining a record of orders and sales. Data can be organized according to priority. This computerized record is highly valuable.
Excel inventory sheet templates are available online. These can be used with the pre-formatted layout and pre-developed formulas. Therefore, time and effort can be spared.
Preview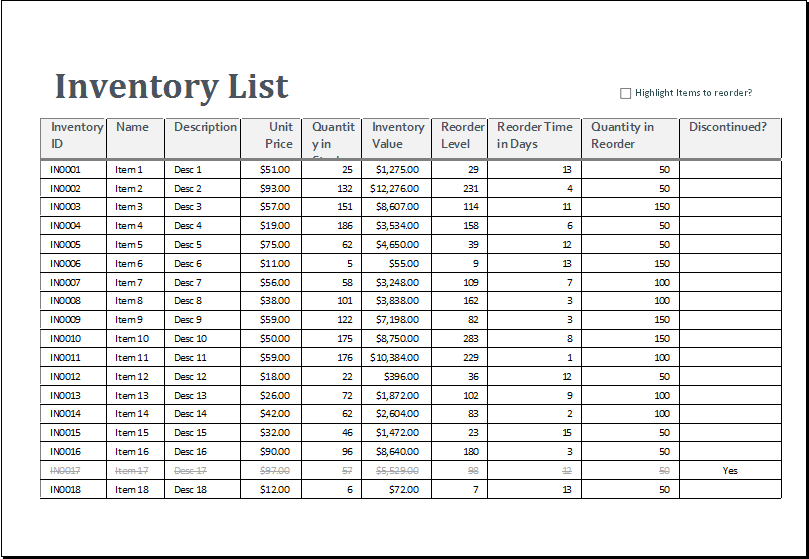 File: Excel (.xls) 2007+ and iPad
Size 54 Kb   |  Download
File: OpenOffice (.ods) Spreadsheet [Calc]
Size 18 Kb   |  Download
License: ENERGY   (Personal Use Only)
(Not for resale and distribution) by Kate Elizabeth(CEO)