Inventory List
The inventory list is a very common tool used in businesses all over the world. It is basically a tool to keep an eye on the stock of products or materials utilized by a business. This list is used by the businesses where a material is purchased and stored in the warehouse and from there it is either sold or consumed by the company.
Uses of Inventory list
This list is most commonly used to support the requisition process of inventory, its management, purchase details, and reconciliation of physical inventory with that in the records. It also provides information about the availability and non-availability of certain products. This enables the purchasing department to purchase the item on a timely basis. Apart from that, the purchasing department can easily keep an eye on stock levels through this list. All in all, by keeping a good record of all the products, materials or items in the warehouse, this list proves to be an excellent tool in managing them. It is a critical instrument when it comes to optimizing sales and productivity.
Template
A basic or simple inventory list template is very easy to draft and easy to use as well. It is best for small businesses and any business in which there is not a lot of inventory to manage. This template should start with the name of the business. The template should be drafted in tabular form. Each section should have a different heading like the name of the product or item, Id of the item can also be used based on the way followed the company. Then the other headings should be of its description, the unit price of each item, total quantity, value of the total quantity (total quantity * the rate of each unit), reorder dates, reorder quantity and reorder level. Details related to the manufacturer or the supplier should also be mentioned along under a separate heading. Each heading should have a separate column.
The template will make the management of inventory very easy as the mess-free design is straightforward and understandable and anyone can use it.
Preview & Details of Template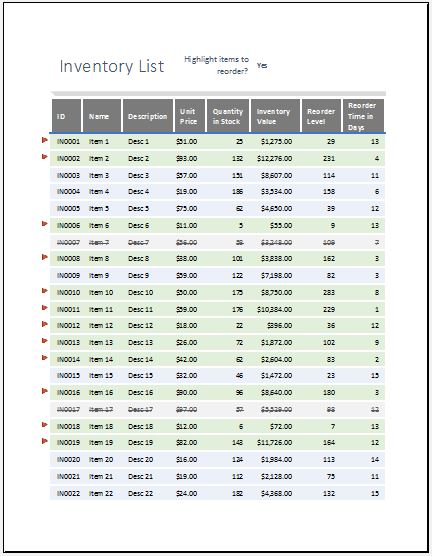 Equipment Inventory List Template
File: Excel (.xls) 2003+ and iPad
Size 34 Kb | Download
License: ENERGY [Personal Use Only]