Many companies provide tuition reimbursement to their employees. The use of tuition reimbursement form eases the process of reimbursement. To get the reimbursement, the employees are required to provide the complete information to the company. The main information to be provided in the course in which the employee has been enrolled and total tuition fee s/he has paid.
There are also many scholarship programs that ask the students to pay the fee and reimburse the entire paid tuition fee at the end of the student's education. Anyone who wants to apply for the reimbursement should fill this form.
In most of the cases, the person applying for the reimbursement is required to attach the receipt to the form that is used as a proof of payment.
What is tuition reimbursement form?
It is a form which is used by individuals wanting to get all their tuition expenses reimbursed. This form is the best tool to request for the reimbursement.
Tuition reimbursement form template:
The organized and well-designed form template makes it easier for the candidate to fill the form and submit the request for reimbursement. It is also recommended to use this template so that the employees can learn and be a successful part of the company.
There are many organizations that believe in the value of the education which is why they offer their employees to pay the full tuition fee.
A company needs a set of details to process the request for reimbursement submitted by the employee. The employee should be able to provide all those details so that the fee paid by him can be reimbursed as soon as possible.
Main details:
The key details that the employee is required to provide are:
The name of the institute where the employee has taken admission
Cost per credit hour
Total credit hours that were chosen by the candidate
Course name
Course code
Name of degree program
Duration of degree program
Total amount to be reimbursement
Total amount that the employee is eligible to get
Preview and Details of Template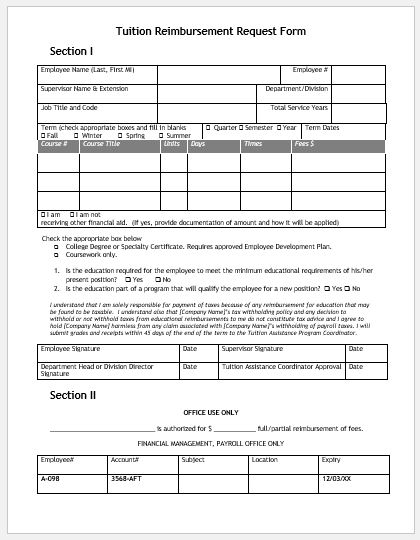 Tuition Reimbursement Request Form
File: Word (.docx) 2007+ and iPad 
Size 35 Kb   | Download