What is employee recognition letter?
Employee recognition is a common practice in any organization. Employee recognition Letter is a letter of acknowledgments, meaningful contribution, praise, and reinforcement of the positive work to be continued by the employer to an employee or a whole team member for their efforts, behaviors, and works for the company that acts as a milestone for the betterment, improvement and growth of the business.
In case of the recognition of the individuals in a group, it is important to takes in the notice the works and contribution of each individual in a group. Group recognition informs the group that together they are valuable to the organization and helps in team building.
Employee recognition letter can be written manually in a handwritten form or in a formally documented form. It can also be sent via an email to the employee by the supervisor, boss or manager of the organization depending on the policy and rules of the company.
Benefit of writing the recognition letter
An employee who is appreciated for their work and efforts:
Go beyond and give more than what is expected.
Lets the employees know that their work is great and being appreciated.
Stays with the company in a long run.
Employee Become more passionate
Makes them more motivated and focused towards work.
Improves the morale of the employee.
Enhance the loyalty towards the organization.
Helps to bring the supportive work environment.
Key to write a professional recognition letter
The employer must follow the following guidelines.
Appreciate as soon as possible, don't delay.
It must be sincerely written.
Identify what is being appreciated.
Don't wait for perfection in performance.
Stay positive, don't mix criticism.
Inform them about their positive work you heard from their coworkers.
Types of employee recognition letter
There are two types of employee recognition letter
Formal recognition letter:
The formal recognition can take place monthly, weekly or yearly basis. While writing a formal recognition letter following happenings must be considered
Milestone
Service duration
Teamwork
Personal accomplishments
Informal recognition letter:
The informal recognition is performed whenever it is required. The informal recognition letter can be written in minutes. It can be written by the coworker, manager, supervisor or employee of another department.
Formal Recognition Letter-Sample
Employee name
[Address/Company Name]
Date
RE: Appreciation for Completing the Project
Dear [Recipient Name],
This letter is an opportunity for me to thank all your hard work and dedication that you put to accomplish that project with such efficiency in a short time. It was only possible because of your hard work and effective skills. We are aware that it was nearly impossible to complete this project in a short time. All the coworkers are also impressed by your work. Thank you for all your work and efforts.
Your skills are commendable. If you continue work with this passion and effort you will go miles. You are a great motivation and inspiration for the rest of the team members.
Keep up the good work. Wish you all the luck in your future endeavors.
Thanks and Regards,
[Sender Name/Designation/Signature]
Informal Recognition Letter-Sample
Dear [Recipient Name],
People are always and will be our greatest assets. Your contribution, work, and abilities are important for this project. You made a splendid presentation that made everyone speechless. I have never seen anyone presenting the product in such a way. Take a pride in knowing that you are an integral part of our team.
Thank you very much for your loyal support, I am overwhelmed.
Yours sincerely,
[Sender Name/Designation/Signature]
Preview and Details of Templates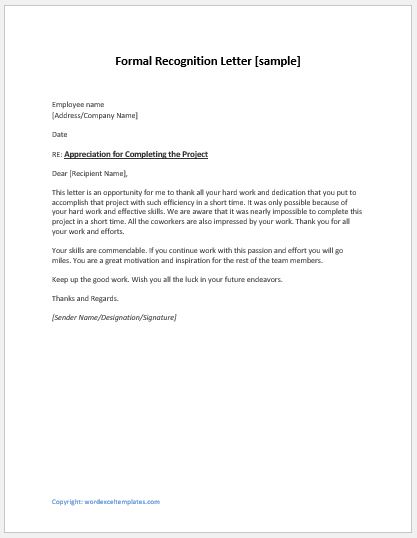 Formal Recognition Letter Template
File: Word (.doc) 2003+ and iPad 
Size 34 Kb | Download
[Personal Use Only]
---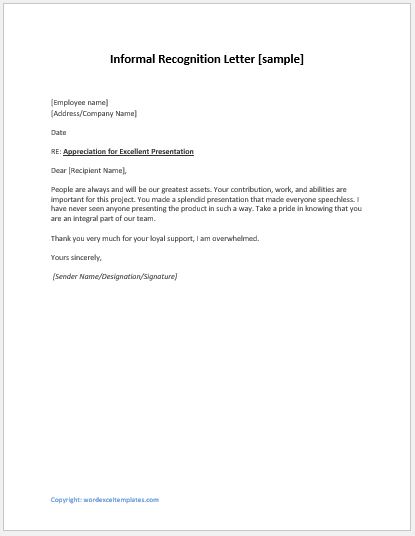 Informal Recognition Letter Template
File: Word (.doc) 2003+ and iPad 
Size 34 Kb | Download
[Personal Use Only]