Shifting business to an online platform is tantamount to rebranding. It is as grueling as rebranding. Sometimes, a business has to move heaven and earth to communicate its rebranding to its customers. Similarly, it has to put serious efforts when it wants to let its customers know that it is shifting the business to online.
There can be many reasons for shifting the business to an online platform. One of the most common reasons that are widespread these days is the outbreak of coronavirus. Due to this outbreak, people have started canceling their meetings and shifting to video conference calls and webinars. Similarly, different companies have also started selling their products online after closing their physical stores. When they do this, they must share their decisions with their customers so that they can enjoy their services by staying at home. One of the most common ways to inform people about this important decision is to write an email.
How to write the email to customer shifting business to online
Your customer is the most important entity of your business. The success of your business is completely based on its customers. Therefore, when you have to maintain social distance and you are afraid that your business might begin to wane, you can rely on your customers who can save your business from collapsing. Keeping in view this fact, you can contact your customers via email and let them know about your online business. Here are the tips for you to write the email to your customer
1- Write the subject of the email
While making this announcement, you should add a subject to your email. The subject of the email should be eye catchy that can convince the customer to open the email and read it. Most of the customers usually ignore the email considering it a promotional email. You can make this email an effective and useful piece of information by adding the subject to it. The subject makes the customer know that the email contains worth reading content.
2- Tell the customer about your business
You should start the body of the email by telling the customer about your business. In this part of the email, you can tell for how long your company has been working in the industry, in which areas it is doing its best and roughly how many customers' trust it has won and much more.
3- Tell the customer about shifting your business
Tell the customer that you are shifting your business to online. Also, mention the reason. Make it clear that the customer will be able to shop online from your company. If you are in the process of shifting online, tell the date from which you will start operating online.
Courteously write the email to make the customer feel that you value him. End the email appropriately but keep it concise and precise so that the reader reads the entire email.
Sample Emails
Email -1
Subject: Shifting of business to online
Dear John,
I hope you will be enjoying good health. Meeting the demands of customers has always been our top priority and we are helping potential customers like you find the best in their surroundings. The matter of loyalty witnessed from your side is all which has accelerated our growth for the last three years. We had a great time doing business with potential customers like you and appreciated your support. With the passage of every second, exciting things are happening in the world and it is expanding too. The same is the situation with our business which has shown a remarkable increase in size.
In the recent past, we conducted market research and we found that people were talking about our product on social media though we had no online presence. Secondly, the age of machines has confined people to their homes, and they prefer online shopping rather than going far off places for the same. Sorting these things out, we thought it vital to have a website for our business.
Keeping in view the huge demands of our customers and to serve them with our fullest potential, we are pleased to announce that from now onward i.e. from 1st of April, we are shifting our business to online. You can place your online orders at [website]. You will also be offered 50% off our original prices during the first week of our online appearance.
Yours truly,
Anderson
In-charge Hub Leather (Sales section)
31-03-20XX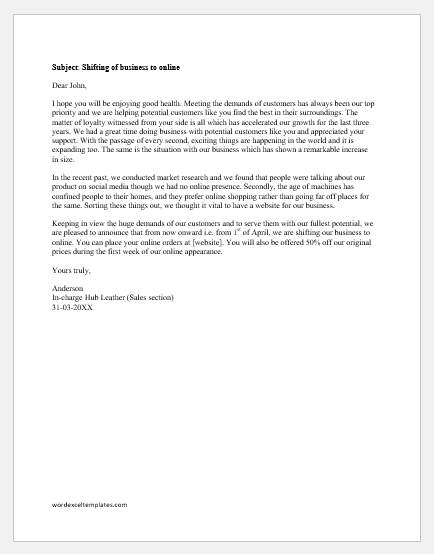 File: Word (.docx) 2007+ and iPad Size 20 Kb |
Download
---
Emails -2
Subject: Shifting existing business to online
Dear John,
I hope this email will find you in the best of health and spirit. I am Anderson, the sales manager of [Business]. [Business] is the unique name in the field of agrochemicals by virtue of support and appreciation it got from potential customers like you. We provide the best chemicals to eradicate every type of pest. My sales team is determined to serve the community with its full potential. For this purpose, we need more support from your side.
You know very well that outbreak of Coronavirus has restricted ever type of movement. Nowadays, everybody is confined to home due to lockdown imposed by the [X] govt. My sales team members, who used to pay weekly visits to your farms, will no more be available for the same purpose. You cannot come to our outlets for usual buying since these will be closed for an indefinite period of time.
Owing to all these problems arising due to COVID-19, we have decided to shift our business to online. We shall continue supporting you and are just a click away from you. Now you are only required to place your online order at our website which is [Website].
Any inconvenience regretted.
Yours truly,
Anderson
Area Sales Manager
[X] Chemicals
09-04-20XX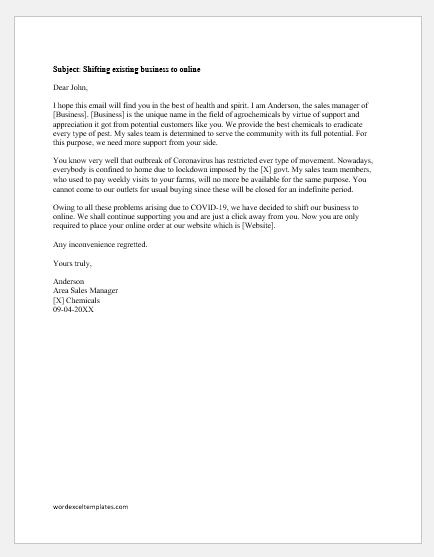 File: Word (.docx) 2007+ and iPad Size 19 Kb |
Download
---