As the name says, a dispatcher is responsible for communication like answering the calls or writing emails to the customers and the vendors. Dispatchers are found in almost every industry such as the shipping, inventory, trucking, manufacturing and even retailing. The dispatchers are responsible for picking as well as dropping off the goods.
A good dispatcher is a person who remains calm in emergency situations and has the ability to take control over matters. Decision making is a skill not mastered by a lot of people. But for a dispatcher, having strong decision-making skills matters a lot. A dispatcher knows when to collect the goods, when to dispatch them and how to respond to any urgent requests from vendors or clients. They keep a hold of the situations by keeping a track and monitoring the operations.
Dispatchers are also working in fields like emergency fire, ambulances, and even police stations. There might not be a specific degree requirement for the dispatcher but a high school degree should be the minimum qualification. The experience that a dispatcher earns with the passage of time and work is more important than a college or university degree. A dispatcher normally has to pass an entry test before the job such as a typing test, vision and hearing tests to make sure that the candidate is in the best of the health.
Dispatchers are given training throughout the year to train them with up-to-date technology and to keep them healthy and active.
Sample Resume
Summary:
An organized, managed and punctual dispatcher who is capable of managing the workload of any vehicle, drivers and goods dispatched. Effective planning, organizing, and scheduling skills have proved to achieve targeted results. On-time delivery of goods to the customers and vendors. Use of the technology, maps, know-how of geographical areas and traffic patterns has helped to schedule the deliveries timely. Ability to work under stressful situations while maintaining composure and giving precise emergency instructions. Ability to do multi-tasking and coordinate various activities between the personnel.
Objective:
My objectives are:
To communicate records.
To effectively communicate instructions.
To understand the dispatching requirements.
To maintain control in the department.
Work Experience:
May 2015-till present Highway Dispatcher
My key roles in this job are/were:
To manage an office of 8 dispatchers.
To coordinate the work timings of the dispatchers.
To respond to customer needs and queries.
To maintain records of the call logs and personnel reports for future reference.
To make decisions in stress full situations.
To supervise the personnel and help them effective planning.
To provide emergency training to the staff.
To maintain the department budget by documenting records.
To maintain the work hours of the employees for payroll purpose.
Managed company drivers, operators & trailer fleet.
Technical skills:
To do accurate reporting.
To listen and respond to customer needs.
To communicate effectively.
Core Competency:
Problem-solving ability to deal with emergency situations.
Data entry skills.
Negotiation skills to make profitable deals between fuel and carrier providers.
Reference:
To be provided on demand.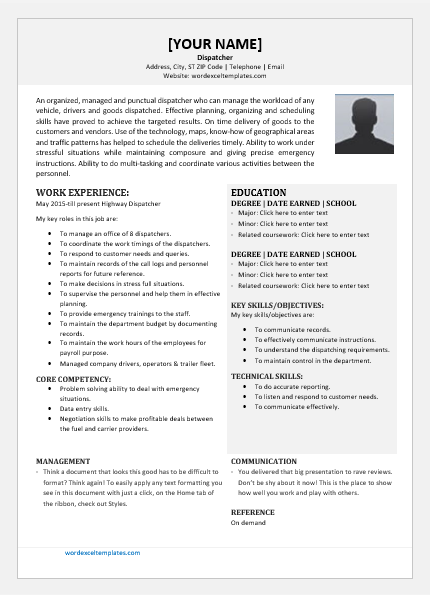 File: Word (.docx) 2007+ and iPad Size 28 Kb |
Download
License: ENERGY  (Personal use only)
(Distribution) by Kate Elizabeth(CEO)
---