Time Cards
The most valuable assets of any company or a business are the employees that they have. An employee is the one who understands the needs of the company and works to achieve the goals in the long term. But companies can face challenges in retaining its employees.
Every company operates with the goal of being profitable. But if a company does not align its goals with the goals of its employees, they can never do well. A successful business has a lot of ingredients including the necessary finance but without hard working employees, no company can excel. Some companies feel that they can save their costs by excluding their employees. Even during this era of technology, the need for employees cannot be denied.
We often see employees working for hours staring at their screens. But the time they spend does not matches up with the work they do. With the development of various theories and models, companies have started to focus on the employees achieving their goals which will help the companies to achieve its long-term goals.
Most of the employers restrict the use of the internet to the employees. They feel that the employees will waste their time surfing the net. But the reality is different. If the employees are free and have a choice to use the internet the way they want, it increases their productivity. Social media is the new growing thing which seems to be a bad activity during work. Most of the offices do not allow their employees to use social media during work thinking that the employees will waste their time. However, social media can have its own benefits. It keeps you aware of the new strategies used by the competitors and it can always keep you ahead of your competitors.
Employee Time Sheets
Most of the businesses measure their performance by comparing the data they have for the current and previous years. The employee performance can also be measured in the same way. Employee motivation is very important these days. And one of the best ways to keep the employees motivated is to keep a proper track of their work timings and pay them accordingly. Daily, weekly and monthly time cards is a good way to keep a track of all the hours worked by an employee. Marking all the normal and overtime hours worked in a week can help to calculate the salary of the employees.
Preview & Details of Templates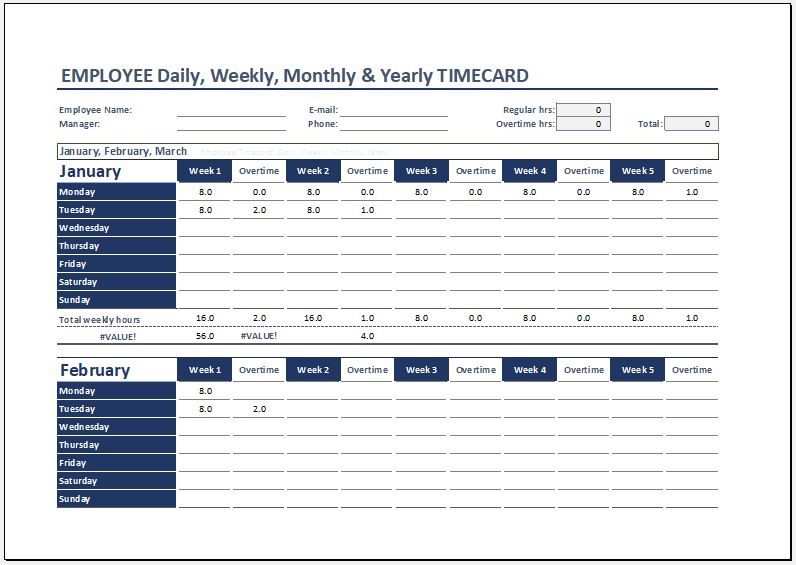 Employee  Daily, Weekly, Monthly & Yearly Time Card Template
File: Excel (.xls) 2003+ and iPad
Size 94 Kb | Download
---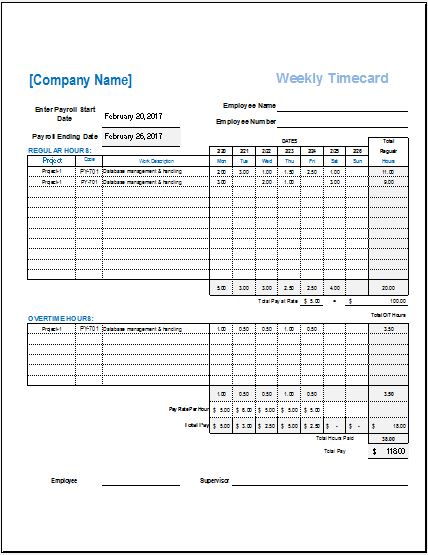 Employee Weekly Time Card Template
File: Excel (.xls) 2003+ and iPad
Size 94 Kb | Download
File: OpenOffice (.ods) Calc [Cal]
Size 16 Kb |  Download
License: ENERGY (Personal Use Only)
Distribution by Kate Elizabeth(CEO)
---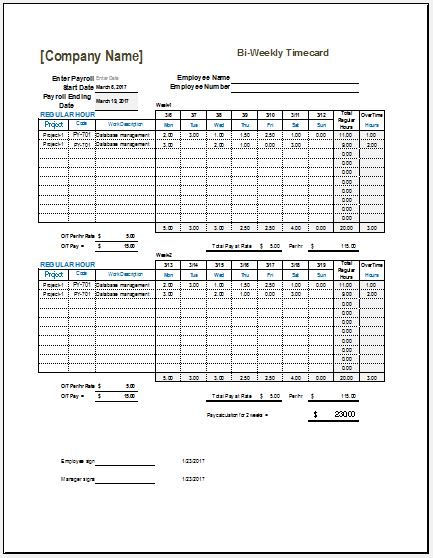 Bi-Weekly Time Card Template
File: Excel (.xls) 2003+ and iPad
Size 94 Kb | Download
File: OpenOffice (.ods) Calc [Cal]
Size 19 Kb |  Download
License: ENERGY (Personal Use Only)
Distribution by Kate Elizabeth(CEO)
---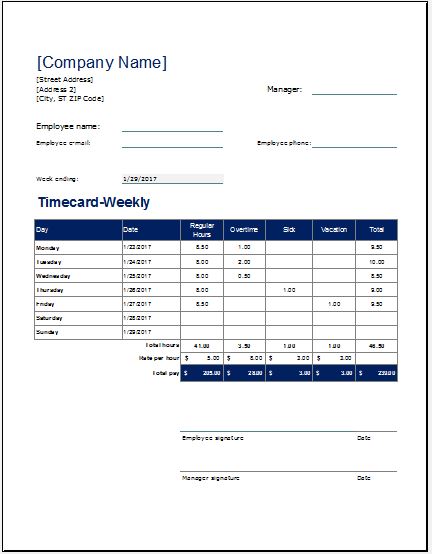 Weekly Time Card Template-2
File: Excel (.xls) 2003+ and iPad
Size 84 Kb |  Download
File: OpenOffice (.ods) Calc [Cal]
Size 22 Kb |  Download
License: ENERGY (Personal Use Only)
Distribution by Kate Elizabeth(CEO)