Task Planners
Planners are medium of an organized life. Whatever you aim to achieve you need to not only make a map in your mind but jot it down too for your own good. The wise people have always been recommending others to write down the important stuff and for the same reason, the start of the printing press was taken as a great revolution in human history after the wheel. Things cannot stick to your mind forever and if they are important enough, you simply cannot take the risk of relying on your busy brain. This is where the planners plunge in.
Planners are not only helpful to make you remember important stuff rather give you the facility of grading them. Classifying stuff based on the hierarchy is one of the most significant and useful uses of these planners. As your brain, cannot be prepared all the time to make you alert of the significance of all the tasks and arrange them accordingly having just one single glance at the planner, where you have written down all the tasks as per the significance, will make it much easier for you to begin with. You will not have to get confused anymore where and what to start from and what was the highest level to do list.
Having done with one task, one can simply mark it done to avoid confusions. If supposedly in any situation the task has not been able to fulfill or it has been left incomplete, you can still make a question mark at the end so you can realize the next time you have a look at yours to do list planner that a task has been pending.
As much is the importance of utilizing a planner, is the importance of using it effectively and understanding all its functions. One of the most important thing to adhere to mind in using a planner is to keep having a look at it. Never stop using it for the moment you abandon it, is the same moment it stops having an effect on your chores. Also, not writing excessive details about the tasks is the key to utilizing it properly. These simple and easy methods can make your planner effective otherwise, it will not be much of use.
Preview & Details of Templates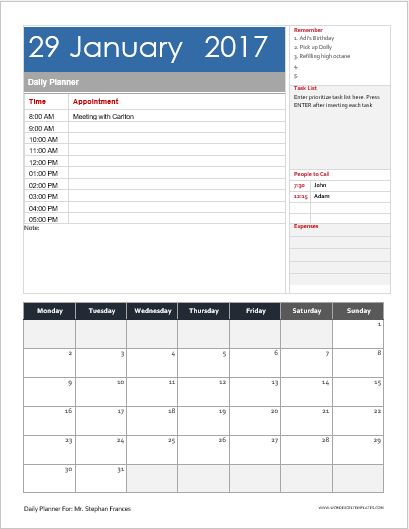 Daily Planner Template
File: Word (.doc) 2003+ and iPad
Size 124 Kb | Download
File: OpenOffice (.ods) Calc [Cal]
Size 15 Kb | Download
License: ENERGY (Personal Use Only)
Distribution by Kate Elizabeth(CEO)
After Download:
Go to
TOOLBAR
, select
CALENDAR
and you can
SELECT NEW MONTH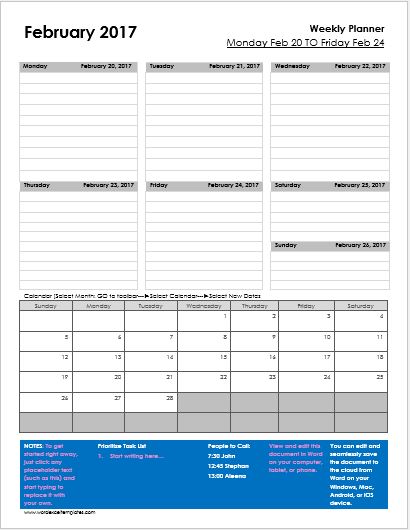 Weekly Planner Template
File: Word (.doc) 2003+ and iPad
Size 176 Kb | Download
File: OpenOffice (.ods) Calc [Cal]
Size 19 Kb | Download
License: ENERGY (Personal Use Only)
Distribution by Kate Elizabeth(CEO)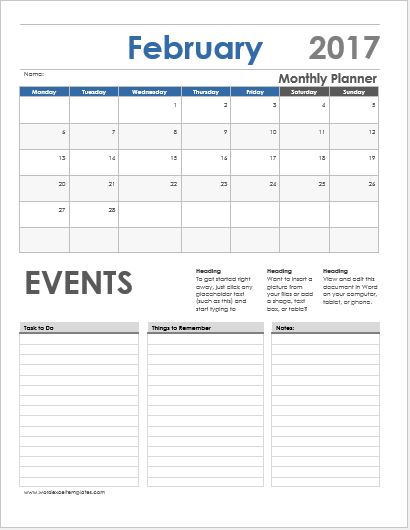 Monthly Planner Template
File: Word (.doc) 2003+ and iPad
Size 136 Kb | Download
File: OpenOffice (.ods) Calc [Cal]
Size 15 Kb | Download
License: ENERGY (Personal Use Only)
Distribution by Kate Elizabeth(CEO)
Event Schedule Planner by Microsoft Corp. [templates.office.com]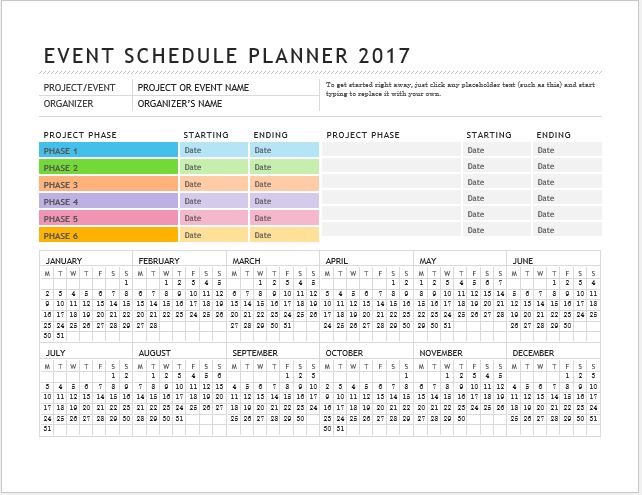 File: Word (.docx) 2003+ and iPad
Size 120 Kb | Download