A customer service skills cover letter is a letter that is written by a candidate, who is applying for a customer service job. This letter is addressed to the potential employer, and the candidate uses this letter to market his customer service skills to improve his chances of selection.
Sometimes, few clients outsource and hire services of the companies, that specialize in providing exceptional customer service to the client's customers. In this case, this letter is written by the company offering the customer service and is addressed to the client company seeking such outside expertise. Nevertheless, this letter is more often used in the former case than the latter one.
When a candidate applies for a job, along with the relevant documents, he often sends a cover letter to state his skills and experience. This cover letter can be beneficial in many ways, such as:
It can be used as a promotional tool to market one's skills.
It can be used as a communication tool to provide additional and relevant information regarding the experience and developed skills of the candidate, which can raise the candidate's chances of selection.
Some employers go through the cover letter before the other attached documents. If the cover letter is attractive, the potential employer might get interested in hiring the candidate.
When this letter is written, the choice of the included content is important, as it may set the basis of the individual's selection or rejection. The included information can vary, but the general details included in such letter are:
Date.
Candidate information.
Potential employer information.
Reference to the applied designation or vacancy.
Experience in a particular field.
Relevant Skills and self-promotional statements.
Reasons for being a fit for the job.
Positive contributions that the candidate can make to the organization.
Mention the attached documents.
Salutations and signature.
Sample Customer Service Skills Cover Letter
Date
Name
Address,
Dear Ms. Julie,
I am writing this letter to apply for the 'Customer Service Manager' job, which was posted on your website on 5th January 2020.
I have served as a customer service representative and customer service manager at ABC Limited for a period of 2 years and 1 year respectively. I always believed that I have the skills and patience to cope with disgruntled customers, which is why I chose this career. My skills further developed during my job in this field. While working at ABC Limited, I developed and implemented three new strategies of dealing with customers, which decreased the complaint rate by 30% in six months.
In addition, I believe my communication, organizational and team-working skills have improved to a great extent. With my customer service skills, I am certain that I will bring a positive contribution to your company, and your customer satisfaction rate, along with the number of your loyal customers, would increase.
I am attaching the required documents along with this cover letter. Kindly, contact me at [X], if you need any more information.
Looking forward to a positive response.
Regards,
William John.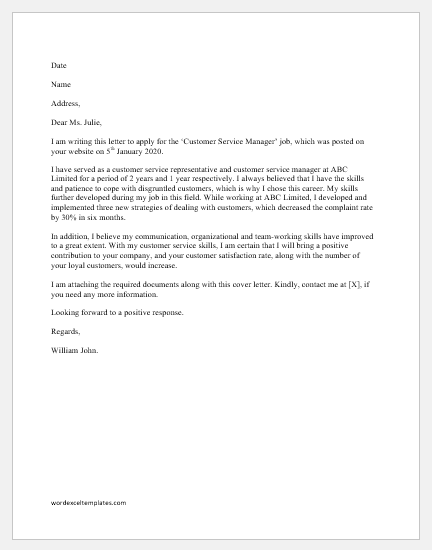 File: Word (.docx) 2007+ and iPad Size 19 Kb |
Download
---