Construction workers are required to make interaction with several clients to grow the business of a construction company. Some construction workers share a large amount of money with their clients.
A business card always represents the cardholder as well as his business. Therefore, it is important that you design a business card for yourself that can represent you accurately. Your business card should be able to represent your business as a reliable and trustworthy business.
It should also be able to communicate high-quality workmanship of you and your co-workers in the company. The design of the card should be attractive and memorable.
There are different templates available on this website that you can use to get a business card for yourself. These templates are easy to customize that enables the person to incorporate the readymade business cards into his business.
A construction worker can be a laborer or contractor. A construction worker can always contact different clients on behalf of his company. He can distribute the business card to people to make them know about them and their skills.
Many people believe that with the advancement in technology, business cards are no more effective. Business cards are still the cheapest marketing tools that are being used by most of the organizations these days to promote their business. When it comes to construction, people always want to get in touch with the best construction worker.
For them, they are required to have information about the expertise of the construction worker, his contact details, the name of the company he is working in, number of years he has worked in the construction industry and a lot more.
If a construction company is capable enough to provide the best construction workers for the construction project, it is important for them to convey the skills and abilities to the clients. The best way to do that is to use business cards.
Business cards enable the person to talk to their clients and target the market. These cards have enough space where you can edit the content of your choice.
#1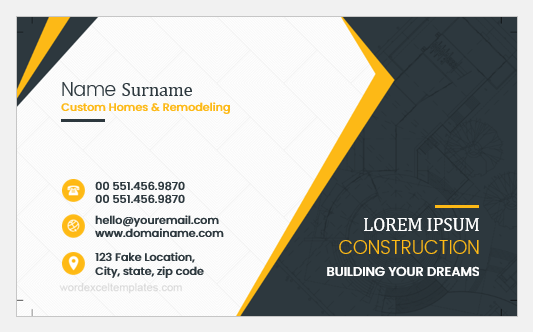 File: Word (.docx) 2007+ and iPad Size 314 Kb |
Download
---
#2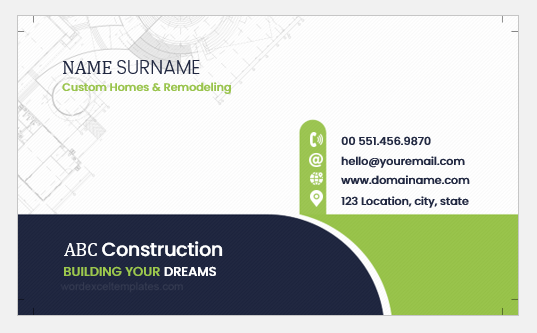 File: Word (.docx) 2007+ and iPad Size 228 Kb |
Download
---
#3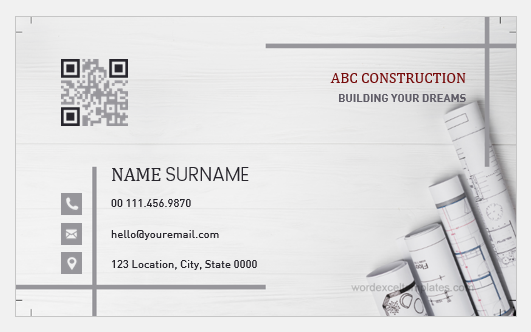 File: Word (.docx) 2007+ and iPad Size 540 Kb |
Download
---
#4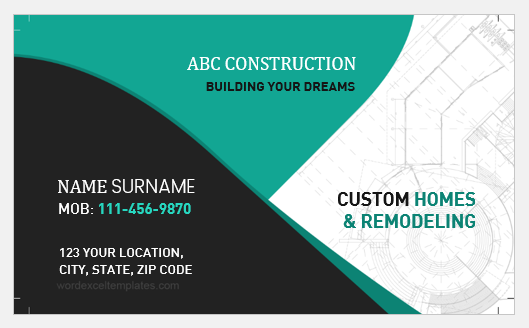 File: Word (.docx) 2007+ and iPad Size 208 Kb |
Download
---
#5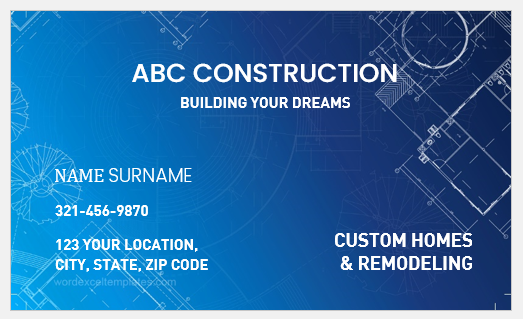 File: Word (.docx) 2007+ and iPad Size 658 Kb |
Download
---